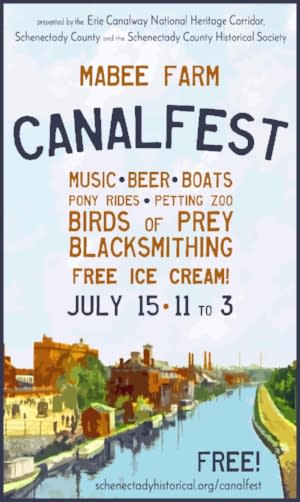 Saturday, July 15 - 11:00 am - 3:00 pm at the Mabee Farm Historic Site
Schenectady, N.Y. - Join us for CanalFest at Mabee Farm for a day of FREE fun, family activities as we celebrate the Erie Canalway! 

The festivities include live music with The Crabgrass Boys, petting zoo and pony rides, rehabbed wild animals, food and craft beer, art exhibition opening of Dana Hatchett's "Erie Canal Re-Imagined," barn-raisings, kids activities, craft vendors, FREE ICE CREAM (for kids, generously donated by Stewart's), blacksmithing and textile demonstrations inspired by the Erie Canal, and family-friendly tours of the historic Mabee house. Our Mohawk River bateaux will also be on site!

And...there's more! Even after the Erie Canal opened, adventurers still navigated down the torturous shallows of the Mohawk. One 19th century inventor sought to revolutionize the difficult voyage, and succeeded, right here in Schenectady!  Historian Phil Lord will be here at 2 PM to tell the story of the fantastic 1822 steamboat journey down the Mohawk River.
Join us at 1:30 PM for remarks from Dana Hatchett, featured artist in "Erie Canal Re-Imagined," a visual adventure of drawings and paintings that capture the structural grace of the Erie Canal, its buildings, boats, and locks.

For more information, please contact Mary Zawacki at 518-887-5073, or director@schenectadyhistorical.org.

This event is generously sponsored by the Schenectady County Historical Society, Schenectady County, the Erie Canalway National Heritage Corridor, Capital Region Living Magazine, and Stewart's Shops.