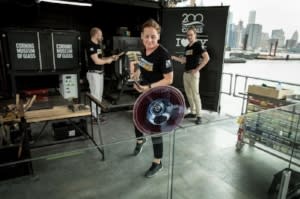 GlassBarge will make six stops across the region from August 17-September 22
Pittsford, N.Y. - The Finger Lakes Region is welcoming GlassBarge to the area on Aug. 17, 2018. The barge was created by the Corning Museum of Glass (CMoG) to celebrate the bicentennial of the historic Erie Canal and 150th anniversary of the relocation of the Brooklyn Flint Company (known today as Corning Incorporated) to Corning, N.Y. The barge will travel across the Finger Lakes, making six stops along the way, before reaching its final destination at Seneca Lake Pier in Watkins Glen, N.Y. on Sept. 16, 2018. The last leg of the trip will then be made by land, concluding with a homecoming celebration at CMoG on Sept. 22, 2018.
The Finger Lakes Regional Tourism Council (FLRTC), the official 14-county tourism promotion agency as recognized by I Love NY, has much to celebrate with the arrival of GlassBarge. The region is home to the internationally-renowned Corning Museum of Glass as well as the Erie Canal Museum, which celebrates and preserves the last remaining Weighlock Building in America. Last year, the region hosted the World Canals Conference, bringing together hundreds of canal enthusiasts to celebrate the transformative power of this vital waterway.
GlassBarge is a 30' x 80' canal barge equipped with patented all-electric glassmaking equipment developed by the Corning Museum of Glass.
Visitors can celebrate New York's waterways and glass history with a floating, glassmaking demonstration at one of GlassBarge's upcoming events. At each stop, the free, 30-minute demonstrations run from 11 a.m. to 6 p.m. daily. The full Finger Lakes schedule of stops includes:
August 17-19: Brockport - Brockport Welcome Center
August 22: Spencerport - Spencerport Depot & Canal Museum
August 25-26: Pittsford - Carpenter Park at the Port of Pittsford
August 28: Palmyra - Erie Canal Lock 29
September 1-3: Seneca Falls - Seneca Falls Canal Harbor
September 14-16: Watkins Glen - Seneca Lake Pier
September 22: Homecoming event at The Corning Museum of Glass (no GlassBarge)
Tickets for an upcoming GlassBarge performance can be found online at: https://www.cmog.org/glassmaking/demos/hot-glass-demos/glassbarge. Walk-up registration is available as tickets last or the show can be viewed from shore at any of these public demonstrations.
More information on the Finger Lakes Region can be found at: www.fingerlakestravelny.com
###
The Finger Lakes Regional Tourism Council
The breathtaking Finger Lakes takes its name from eleven lakes spanning the region like a giant handprint, stretching from its easternmost point in Onondaga County to its westernmost border in Livingston County, near Letchworth State Park. Boasting a mix of nature trails and natural beauty, wineries and breweries scattered across the region, and quaint villages close to large metropolitan areas, the Finger Lakes Vacation Region has a plethora of tourist attractions within its borders.
In January 2014, the 14 Official County Tourism Promotion Agencies of the Finger Lakes Vacation Region formed a 501(c)(3) organization known as the Finger Lakes Regional Tourism Council (FLRTC). The FLRTC Board includes representation from all 14 TPAs and counties: Cayuga, Chemung, Cortland, Livingston, Monroe, Onondaga, Ontario, Schuyler, Seneca, Steuben, Tioga, Tompkins, Wayne and Yates. For information about attractions and events throughout the Finger Lakes region, visit www.fingerlakestravelny.com or call 1-888-408-1693. 
Photo: GlassBarge Launch - Brooklyn, N.Y., Courtesy of the Corning Museum of Glass
Media Contact:
Lisa Burns
Executive Director, FLRTC
O: 585-484-8844
C: 585-410-1528