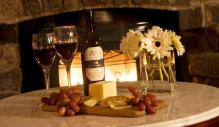 New York State loves Valentine's Day with special offers that will melt your heart
Albany, N.Y.  -
Couples looking for original ways to celebrate Valentine's Day will find New York State brimming with romantic possibilities. Cuddle under a warm blanket as you glide through snow-topped woods in a horse-drawn sleigh or mush sled dogs around a pristine lake. Sip vintage wines in front of a blazing fire and learn to heighten your senses in a gourmet kitchen. Get your hearts racing with the thrill of an Olympic bobsled run. And that's just a small sampling of the exotic and extraordinary ways couples can make this Valentine's Day a memory to treasure forever. Best of all, these experiences and more are offered as special Valentine's Day promotions throughout the state.  Here are five ideas to get you started:   1.
Cuddle up on a dogsled or horse-drawn sleigh ride:
Couples staying at the
Golden Arrow Lakeside Resort
in Lake Placid (800-582-5540) can walk out their door and snuggle into a dogsled for a thrilling ten-minute trip around Mirror Lake in the Adirondacks. The ride, free with the resort's Valentine's Day package, costs $10 per person a la carte. Set out from the
Schroon Lake Bed and Breakfast
in Schroon Lake (518-532-7042) on a 45-minute minute ride in an antique sleigh as you cozy up under blankets and sip hot chocolate or cider while gliding through the Adirondack winter wonderland. The cost: $95 plus tax for two. 2.
Learn the magic of touch:
There's nothing like a relaxing massage to set a romantic tone. The
Gideon Putnam Hotel
in Saratoga Springs in the Capital-Saratoga region (866-890-1171) packages a couple's Swedish massage with a bottle of wine and chocolate-covered strawberries, while in the Finger Lakes region, the
Mirbeau Inn and Spa
in Skaneateles (877-647-2328) features a couple's massage along with a three-course wine-pairing dinner. And for those seeking a more hands-on experience, the Catskills region's
Roxbury Motel
in Roxbury (607-326-7200) offers a teaching session where couples learn to massage each other as part of its Rad Romance package.   3.
Savor gourmet and vintage pairings:
For many couples, sharing great food and wine is the height of romance and as one of the nation's premier agricultural and wine producing states, New York is big on farm-to-table cuisine and native wines. Among the best places to savor food and wine pairings from around the state is the Finger Lakes region's
New York Wine & Culinary Center
in Canandaigua (585-394-7070), which offers a wide array of cooking classes and tasting events on Valentine's Day weekend and throughout the year, priced from $50 per couple. The renowned
Culinary Institute of America
in Hyde Park (845-471-6608) in the Hudson Valley offers top-notch dining experiences as well as introductory classes and tastings. Gourmet food paired with local wines is also on tap on February 9 in the Thousand Islands/Seaway region at the
Thousand Islands Winery
in Alexandria Bay (315-482-9306), where couples can enjoy a five-course wine-paired dinner, VIP winter winery tour, barrel tastings and Valentine's Day-themed games for $49.99 per person. 4.
Let me entertain you:
Concerts, casinos and games for couples combine with romantic accommodations to create lasting memories. Options range from the "spouse I thought I knew" game, part of the Valentine's Day weekend fun at the
Riveredge Resort
in Alexandria Bay (800-365-6987)  in the Thousand Islands-Seaway region, to the theater package at the
Parker Inn
in Schenectady (518-688-1001) in the Capital-Saratoga region. Gaming enthusiasts can enjoy rose-petal turndowns, spa treatments and more at both
The Lodge at Turning Stone Resort Casino
in Verona (315-361-7711) in Central New York and the
Seneca Niagara Casino  &  Hotel
in Niagara Falls (877-8-SENECA), which is within walking distance of Niagara Falls State Park.  And for jazz lovers, Long Island's winter festival, "
Jazz on the Vine
", kicks off with five weekends of music at 19 Long Island wineries on Valentine's Day. Many performers are GRAMMY recipients or nominees and admission to each concert is $20 per person, includes a glass of wine. 5. 
Racy Romantic Adventures:
Host of two Winter Olympic Games,
Lake Placid
, in the Adirondacks, offers skiers and snowboarders plenty of challenge at
Whiteface Mountain
and
Gore Mountain
. But you don't have to be Olympic athletes to enjoy any of New York's ski areas. Trails cater to all levels of ability, and with more than 50 downhill ski centers across the state--more ski areas than any other state in the nation-New York has plenty of choices. Couples looking for ski-in, ski-out romance might opt for
The Inn at Holiday Valley
in Ellicottville (800-323-0020), with its heated outdoor pool and hot tub in the Chautauqua-Allegheny region. And for the ultimate speed thrill, couples can virtually fly down Lake Placid's Olympic bobsled run, piloted by an expert. Check out
http://cts.vresp.com/c/?ILoveNY/b6ff87cf67/6ab8c97166/22f4f86b3c
for more romantic Valentine's Day packages and
New York's exciting accommodations
on the beat to learn about some exotic and wonderfully romantic accommodations around the state.  
About New York State
New York State features 11 beautiful vacation regions. New York's attractions span from landmarks such as Niagara Falls to the wine trails of Hudson Valley and treasures like the Baseball Hall of Fame in Cooperstown. Whether it's wide-ranging outdoor activities for the whole family like ice-fishing, snowmobiling, skiing and snowboarding, culinary wonders and farm-to-table fresh foods, or the rich history and culture of one of the 13 original colonies, New York State offers big excitement and tons activities for all travelers. For more information, visit
http://cts.vresp.com/c/?ILoveNY/b6ff87cf67/6ab8c97166/0c1fa0fe22
for all of our winter activities. Media can find press releases and more at
thebeat.iloveny.com
.  
###
CONTACT:
    Melanie Klausner M. SILVER ASSOCIATES (212)-754-6500, ext. 243
Melanie@msilver-pr.com
  Eric Scheffel Empire State Development (518) 292-5274
escheffel@esd.ny.gov