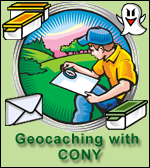 Get outside this summer; high tech treasure hunt is a fun recreational pastime
Pittsford, N.Y.
- For a second year, campers and geocaching enthusiasts are invited to go geocaching with Campground Owners of New York (CONY) an association of privately owned campgrounds and RV parks in New York State.  Additional details about CONY's geocaching program and how to get started can be found at
http://www.gogeocachingny.com/
. According to Groundspeak, Inc., on its website at geocaching.com, "Geocaching is a high-tech treasure hunting game played throughout the world by adventure seekers equipped with GPS devices. The basic idea is to locate hidden containers...and then share your experiences online. Geocaching is enjoyed by people from all age groups." The website notes there are over 1 million active geocaches hidden around the world, as well as 3-4 million enthusiasts. You don't need to be an experienced geocacher to get started at CONY campgrounds and RV parks. Participating locations are listed at
http://www.gogeocachingny.com/
. Once arrived at a park, pick up a CONY geo-caching "Passport to Fun," and search for your first cache. The passports have stamp pages for each park. As you find the hidden caches, you'll have your passport stamped.  Get at least five stamps, and submit your passport to CONY for a prize.  Some parks will have GPS units for purchase or for rent, or bring your own. "Geocaching is the perfect RV hobby, and a great way for the kids to play a high-tech version of 'hide-and-seek'," according to Rosemary Curtis of Hickory Hill Family Camping Resort in Bath, New York. "We've actually hidden caches in our park for several years before CONY's program, and our campers have a lot of fun with our geocaching games." "CONY is in its second year of providing geocaching as an outdoor activity at our parks," says Donald G. Bennett, Jr., President and CEO of Campground Owners of New York. "By combining popular hi-tech electronics with the great outdoors, we're encouraging people to step away from the couch and get active by further enhancing the camping experience for our guests." CONY has caches hidden all across New York State; by using the CONY Geocaching "Passport to Fun," people may plan even more interesting road trips by traveling from park to park.  
Campground Owners of New York, founded in 1963, is an association dedicated to the promotion, growth, improvement and development of privately owned campgrounds in New York State. More information about the association and its campgrounds - including a free camping directory - is available at http://www.nycampgrounds.com/. 
###
Contact
: Donald G. Bennett, Jr. President and CEO Campground Owners of New York
info@nycampgrounds.com
; 585-586-4360 (office)