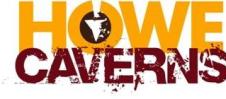 Howes Cave, N.Y
. -- Take a journey underground for the thrills and chills of a "haunted" cave during the 27th Annual Halloween at Howe Caverns charity benefit-- one night only -- from 5:30 to 8; 30 p.m. on Friday, Oct. 30. In this land of ghoulish delights, be captivated by Ghoulia Childs cooking up something very special, or meet the rogues that live on Ghouligans Island. It's all part of more than 20 spook-tacular scenes 156-feet below the earth's surface, guaranteed to bring out Goosebumps and giggles.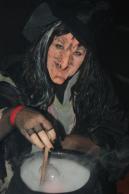 Watch for witches. Listen to The Batman Band playing. Or, go trolling for ghosts on this self-guided tour that converts Howe Caverns into a Halloween adventure to always remember. Above ground, there are plenty of treats in a benefit bake sale.. Plus, find out what it's like to go caving as experienced cavers let you try out the squeezebox. And watch for the ghostly rider on Howe Caverns' cave-themed motorcycle, created by Orange County Choppers. This year's Halloween at Howe Caverns is a benefit for the Marathon for a Better Life Cancer Walk of Schoharie County. The event is in memory of Marsa Galasso.  "For almost three decades, Halloween at Howe Caverns has raised thousands of dollars for charities. Because of the generosity of our visitors, last year we raised almost $16,000 for Schoharie County ARC," said General Manager Robert Holt. Ticket sales are from 5:30 to 8:30 p.m. on Oct. 30 ONLY. Admission is $10 for adults and $5 for children ages 12 and under. (Because this is a benefit, no coupons or discounts apply.) "We invite everyone to come in costume to add to the spirit of the evening," Mr. Holt said. Sponsors of this 27th annual celebration are Howe Caverns, McDonald's of Cobleskill and Cobleskill Stone Products. Howe Caverns is the second most-visited natural attraction in New York State (Niagara Falls is #1) and is located halfway between Albany and Cooperstown. Howe Caverns is open all year, closing only for Thanksgiving and Christmas days. It is open daily from 9 a.m. to 6 p.m. from May through October and from 9 a.m. to 5 p.m. from November through April.  For additional information about Halloween and all the special events at Howe Caverns, plus the latest information about special overnight packages including the Autumn Family Fun package, visit
www.howecaverns.com
 or call 518-296-8900.
###
MEDIA CONTACT
: Kathy Condon, Condon Communications PHONE: 518-436-1103 FAX: 518-436-7346
kcondon@howecaverns.com