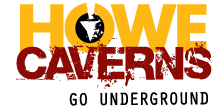 Howes Cave, N.Y.
- It's a "Howe-ling" good time -- the "haunted" cave with a cause -- as the 29th Annual Halloween at Howe Caverns takes place on Friday, Oct. 28, from 5:30 to 8:30 p.m. This year's beneficiary is the Marathon for a Better Life -- The Schoharie County Cancer Walk. Ticket sales are from 5:30 to 8:30 p.m. on Oct. 28
only
. Admission is $10 for adults and $5 for children ages 12 and under. (Because this is a benefit, no coupons or discounts apply.) And what awaits in this underground Halloween adventure? There are vampires and some sights from "Alice in Wonderland". Look inside an asylum. And watch the barber scene from "Sweeney Todd". These scary sights are just a few of about 20 spook-tacular acts 156-feet below the earth's surface, guaranteed to bring out Goosebumps and giggles on this self-guided  tour throughout the great cave. Above ground, there are plenty of treats in a benefit bake sale. Come in costume for this one-evening-only event to add to the fun! Since its beginning, Halloween at Howe Caverns has raised more than $300,000 for charitable causes in Schoharie County.  "Halloween at Howe Caverns is a perfect example of the community spirit in Schoharie County," said General Manager Robert Holt. "Even with the hardships so many of our neighbors are going through, this charity event continues to prove what can be done when the community comes together." Sponsors of this 29
h
annual celebration are Howe Caverns, McDonald's of Cobleskill and Cobleskill Stone Products. Any group or organization that is interested in participating in one of the acts in the cave should contact Holly at the Caverns by calling 518-296-8900. Howe Caverns is the second most-visited natural attraction in New York State (Niagara Falls is #1) and is located halfway between
Albany and Cooperstown. Howe Caverns is open all year, closing only for Thanksgiving and Christmas days. It is open daily from 9 a.m. to 6 p.m. from May through October and from 9 a.m. to 5 p.m. from November through April. The all-new Howe High Adventure at Howe Caverns, with its Ropes Course and four-tower Zip Line, is open Saturday and Sunday in the fall from 11 a.m. to 6 p.m., weather permitting.  For additional information about Halloween at Howe Caverns, plus the latest information about special overnight packages, visit
http://www.howecaverns.com/
  or call 518-296-8900.
###
MEDIA CONTACT:
Kathy Condon * Condon Communications PHONE: 518-436-1103 FAX: 518-436-7346 * E-MAIL:
condonkathy@gmail.com