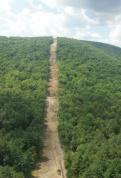 Construction Moves Forward on New Glades & Ski Bowl Interconnect
North Creek, N.Y.
- Gore Mountain's
summer and fall season
of mountain biking, Northwoods Gondola skyrides, and hiking officially began Saturday!  Operations will continue every weekend through October 10.  Not only does this mark Gore's longest off-season operation, but highlights include more biking terrain,
instructional camps
, an expanded barbeque menu, and retail items for sale. The Gear Source of downtown North Creek has a supply of full-suspension downhill bikes available, just five minutes from the slopes.  Downhill camps that include all-day instruction, lift ticket, lunch, and an optional guided hike are available on July 24 and September 4 for just $59, and offer a great experience for beginner and intermediate riders ages 10 and up.  Sunday, August 22 will be a second opportunity for 2010/2011 season passholders to enjoy free access to Gore's summer activities. Ruby Run, the trail off the top of the Northwoods Gondola, was top-dressed to offer bikers a smooth start to their ride.  Trails such as the Otter Slide Glades and Tannery are now included in available riding terrain. Guests are encouraged to mark their calendar for
Harvest Fest
October 9-10!  Live entertainment from the Ernie Williams Band and Raisinhead will add to the excitement of this huge fall event, which also features outstanding Adirondack vendors, kids activities, diverse food and drink, 5K trail run, scenic helicopter rides, and much more. While Gore Mountain prepares for the opening of both the Chatterbox Glades and Barkeater Glades, marked progress continues toward the Interconnect with the Historic North Creek Ski Bowl.  The bridge that joins the Ski Bowl terrain to Burnt Ridge Mountain has been completed, snowmaking pipe on the new Peaceful Valley and Oak Ridge trails has been welded, and the black-diamond 46er trail on the lift line has been completely graded.  Installation of the new Hudson Chair has begun.  Construction photos are frequently featured at
http://www.goremountain.com/
.
###
Photo Caption: This recent aerial view shows the 46er trails that runs along the new Hudson Chair lift line.  This trail was named for the 1946 T-bar that serviced skiers of the Historic North Creek Ski Bowl.  The profiles of the trails and lift have retained their original routes, and offer striking new views of North Creek Village and the Hudson River.
Contact
: Emily A. Stanton (518) 251-2411
emily@goremountain.com