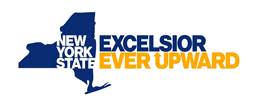 New Exhibit Marks 50th Anniversary of the Iconic Year in U.S. History
Explore the Exhibit Online Here
Governor Andrew M. Cuomo and New York State Office of General Services Commissioner RoAnn Destito today announced the opening of the exhibition "1969," which explores the end of one of the most iconic and turbulent decades in United States' history. Located at the Robert Abrams Justice Building's Vietnam Memorial Gallery at Empire State Plaza in Albany, the exhibition will be on display through December 2019. 
"The 1960s brought our nation exceptional milestones for science, social progress and pop culture, even as many Americans coped with the ravages of war and social unrest," Governor Cuomo said. "This new exhibition at the Vietnam Memorial Gallery celebrates New York's contributions in this time period while honoring the Vietnam War veterans who served and died for this country." 
Office of General Services Commissioner RoAnn Destito said, "We are proud to focus on the 50th anniversary of such a pivotal year—both in Vietnam and in New York State. Many important events occurred during this year and we are pleased to share them with those who visit our Vietnam Gallery. The Gallery was created to foster increased public understanding and discussion of the Vietnam War and its aftermath. This exhibition recounts the role New York played in this important year and how its activities continue to resonate in America today."
Jim McDonough, Director of the New York State Division of Veterans Services, said, "This exhibition highlights an important part of our past as a nation and includes the great sacrifices made by our men and women who served in and during Vietnam. To hear these men and women recount their experiences first hand is both powerful and moving. Exhibits like this remind us of our solemn obligation to honor our veterans and their families who, in some cases, have contributed their very lives in service to our nation." 
1969 was a year of seminal events that became ingrained in the heart and soul of America. From the Vietnam War to Woodstock and from the initial television airing of Sesame Street to the inaugural manned moon landing, it was a year where events across the country shaped our culture. It was a time in our history when our nation was full of polarized ideologies, emotions, and reactions.  As a new president took office with a new foreign policy strategy, the Vietnam War was first televised to living rooms across the country, inspiring a range of reactions and responses.
Utilizing powerful imagery, archival footage, and artifacts on loan from a selection of institutions and private lenders, the exhibition brings visitors on a journey back in time— depicting major events happening both in Vietnam and in America.  Special "listening" stations in the exhibition let visitors hear short stories recounted by veterans from New York, who share their own 1969 experience in Vietnam. The following sections highlight the exhibition:
Vietnam:  President Nixon's policy called for a gradual removal of American troops as South Vietnamese troops were being trained to take over military responsibilities. This new form of foreign policy was called "Vietnamization." Artifacts on loan include military training manuals, a helmet, boots and gear, as well as several campaign buttons advocating winning the war. 
Homefront: On the home front, polarized reactions clashed as groups on opposing sides of the political spectrum participated in demonstrations related to the war effort. The "Moratorium to End the War in Vietnam" demonstration brought crowds to a standstill across the nation as thousands marched in Washington, D.C. This section includes artifacts and material from Woodstock, the premier of Sesame Street, and reproduction of a flier handed out at the1969 World Series called "Mets Fan for Peace Handbill."
The Living Room War: The 1960s was the decade that launched the boom of media. The television became the central focus of the home and the Vietnam War was the first war to be televised. News programming became a powerful force in the polarization of American opinion on the war. This section includes powerful photography and archival footage from 1969. The artifacts include an original LIFE Magazine issue which published a feature spread highlighting 242 Americans who died in a seven-day period during the war and footage from the 1969 Bob Hope Christmas Special as he traveled to secret locations in Vietnam to entertain troops.
Milestones: In New York and beyond, events took place that had a direct impact on our country and influenced the humanitarian and civil rights movements of today. A modern gay pride movement ignited after the Stonewall uprisings in New York City, while students voiced their concerns over racism at Cornell College in Ithaca, New York. Across the country in the west, the Chicano Movement advocated for Mexican American rights under leadership of Cesar Chavez, and oil from an offshore well spilled into the beaches of Santa Barbara, California. Science reached new heights and millions watched captivated as American astronauts landed on the moon.
There will be an opening reception that is free and open to the public on Wednesday, May 8, 5:30 p.m. to 7:00 p.m. in the lobby of the Vietnam Memorial Gallery. The event will feature special remarks by the Director of New York State Division of Veterans' Services, Jim McDonough, and New York State Assembly Sergeant-at-Arms Wayne Jackson, a veteran of the Vietnam War.
###