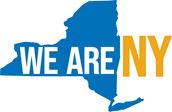 Official Construction of 120-Room Cambria Hotel Niagara Falls Will be Two Blocks Away from World-Famous Niagara Falls State Park
See Rendering of Cambria Hotel Niagara Falls Here
Governor Kathy Hochul today announced that ground was broken on The Cambria Hotel Niagara Falls, part of a more than $18 million mixed-use development project. The seven-story, 120-room upscale hotel brand, which will be located on Rainbow Boulevard, will also include three new residential guest houses on Buffalo Avenue and is expected to open in spring of 2023. The Cambria Hotel Niagara Falls will be developed by Plati Niagara Inc., which also owns a Wingate by Wyndham in Niagara Falls.
"Niagara Falls is one of New York's most visited tourist destinations and as we work to rebuild our economy, we must capitalize on all the city has to offer," Governor Hochul said. "With the Cambria Hotel's construction underway, visitors from around the globe will soon be welcomed to this historic city with a beautiful new place to stay and have direct access to the culture and natural beauty that makes Niagara Falls a gem of upstate New York."
Located at 311 Rainbow Boulevard in downtown Niagara Falls, New York, the hotel will be only two blocks from the world-famous Niagara Falls State Park, which welcomes 9 million visitors annually. Guests will be able to take advantage of popular attractions that allow visitors to get closer to the Falls, whether by descending into the Niagara Gorge at the Cave of the Winds or visiting the nearby Robert Moses Niagara Power Plant to see how the Falls serves as a hydroelectric power source. They can also stroll along Old Falls Street and Third Street to visit shops and restaurants.
Senior Vice President, Upscale Brands, Choice Hotels Janis Cannon said, "We're committed to bringing the Cambria Hotels brand to more of guests' favorite destinations, and I cannot think of a better place to do so than the breathtaking Niagara Falls. Not only will the Cambria Hotel Niagara Falls put guests right at the doorstep of the majestic waterfalls, but its central location near downtown's shops and restaurants will make this hotel the perfect place to experience this stunning part of the country."
Plati Niagara Inc. Co-Owner Frank Strangio said, "The Strangio family is very excited to break ground on our next hotel project in our hometown of Niagara Falls, NY USA. My father Antonio, brother Anthony and I have always had great faith in the future of the city of Niagara Falls and believe strongly in its potential for growth. It is especially gratifying to be able to begin work again after one of the most difficult times in our country's history. We hope that this project is a sign that we are moving forward and past the pandemic and that it may spur additional economic growth in our region. We believe that this unique mixed-use project will be transformational in our downtown tourism district. The project could not have come to fruition without the great leadership and support on the city, county and state levels, the amazing people at Choice Hotels International and Bank on Buffalo and especially from our family, friends and staff!"
The Cambria Hotel Niagara Falls will feature upscale amenities that appeal to modern travelers, including:
·         Indoor and outdoor spaces for productive work or relaxation.
·         Locally inspired design and décor, reflecting the unique personality of the surrounding area.
·         Contemporary and sophisticated guest rooms, complete with design forward fixtures, abundant lighting and plush bedding.
·         Immersive, spa-style bathrooms with Bluetooth mirrors.
·         Bar and restaurant featuring freshly made food, local craft beers on tap, wine and specialty cocktails, as well as to-go options.
·         Multi-function meeting and event spaces.
·         State-of-the-art fitness center.
This project will also add three guest houses (to be marketed as vacation rentals) to complement the historic character of Buffalo Avenue's Heritage District. USA Niagara Development Corporation (USAN), a subsidiary of Empire State Development (ESD), is facilitating projects that preserve and/or involve sensitive infill development along Buffalo Avenue, situated on the upper Niagara River near the "Riverway" portion of the State Park. The guest houses will reestablish a residential block of Buffalo Avenue between Third and Fourth streets, where currently only a single residential structure remains. The units will also be located across from 305 Buffalo Avenue, a parcel that New York State purchased as part of its Strategic Land Acquisition Program, on which a new trail/stairway connection to the Riverway was opened in spring 2021. 
USAN will commit $1.7 million to this project, contingent on USAN Board of Directors approval after completion of the project.
Empire State Development Acting Commissioner and President & CEO-designate Hope Knight said, "Tourism was New York's third-largest industry prior to the pandemic, and ESD is working hard to ensure its comeback. The new Cambria Hotel Niagara Falls, developed by the Strangio family, will welcome visitors from around the world to an iconic natural wonder, while reinvigorating a critical stretch of the historic Buffalo Avenue residential district."
City of Niagara Falls Mayor Robert Restaino said, "We are pleased to see the continued investment in our downtown core. The continued commitment of the Strangio family to the City of Niagara Falls business community is a strong statement of this local family's dedication to our hometown, we certainly appreciate their continued confidence in our community.  In addition, we appreciate the support from Governor Hochul for this project and look forward to the grand opening of the Cambria Hotel."
State Senator Robert Ortt said, "Our region is blessed to have one of the natural wonders of the world located in our backyard, and it is paramount that we are able to capitalize on the vast numbers of visitors to our area that this attraction brings," said Sen Ortt. "By investing in a mixed-use development project such as The Cambria Hotel Niagara Falls, we are not only providing new and exciting lodging options for tourists but also to the residents who live and work within our community. New York State continues to show its commitment to rejuvenating our Niagara Falls economy and injecting new life into our local business community."
Assemblymember Angelo Morinello said, "We welcome visitors back to our beautiful Niagara Falls.  With the groundbreaking for the Cambria Hotel Niagara Falls, another upscale hotel will be added steps away from the Falls, which will make it easier for the region to showcase its beauty to visitors.  I thank Governor Hochul, USAN and the Strangio family for supporting this project, especially as the project will add three guest houses that will complement Buffalo Avenue's Heritage District."
Since 2011, New York State has invested more than $315 million in the City of Niagara Falls in a concerted effort to realize and expand the economic benefits of annual visitation. Investments have included: upgrades to Niagara Falls State Park; revitalization efforts including eight new hotels and the restoration of Old Falls Street and streetscape improvements on other downtown streets; and aforementioned acquisition program to facilitate future mixed-use development. In addition, the state has completed the transformational removal of three miles of the former Robert Moses Parkway, creating a 140-acre unbroken, fully accessible ribbon of green space on the Upper Niagara River and Niagara Gorge. North Main Street was also named a NYS Downtown Revitalization Initiative winner and is leveraging the removal of the Parkway and investments in the Underground Railroad Heritage Center and Niagara Falls Train Station to recreate a strong business district reconnected to the Niagara Gorge.
 About Cambria Hotels®
The Cambria Hotels brand is designed for the modern traveler, offering guests a distinct experience with simple, guilt-free indulgences allowing them to treat themselves while on the road. Properties feature compelling design inspired by the location, spacious and comfortable rooms, flexible meeting space, and local, freshly prepared food and craft beer. Cambria Hotels is rapidly expanding in major U.S. cities, with hotels open in Chicago, Los Angeles, New York, Pittsburgh, and Washington, D.C. There are over 130 Cambria properties open or in the pipeline across the United States, with almost 60 currently open. To learn more, visit www.choicehotels.com/cambria.
 About Choice Hotels®
Choice Hotels International, Inc. (NYSE: CHH) is one of the largest lodging franchisors in the world. With more than 7,100 hotels, representing over 600,000 rooms, in nearly 40 countries and territories as of September 30, 2021, the Choice® family of hotel brands provides business and leisure travelers with a range of high-quality lodging options from limited service to full-service hotels in the upscale, midscale, extended-stay and economy segments. The award-winning Choice Privileges® loyalty program offers members benefits ranging from everyday rewards to exceptional experiences. For more information, visit www.choicehotels.com.
About Plati Niagara Inc.
Plati Niagara Inc. is a development company owned by the Strangio family, including veteran hoteliers Antonio, Frank and Anthony Strangio. The Strangio family has a strong track record in the Niagara Falls hospitality market, and currently operate the Wingate by Wyndham and Quality Inn in the city. With almost 30 years of experience in the hospitality industry, the Strangio family is very involved in the local community and are proud of Niagara Falls, their hometown, and proud of being a part of the city's resurgence.
About USA Niagara Development Corporation
USAN, a subsidiary of Empire State Development, is solely dedicated to the support and promotion of economic development initiatives in Niagara Falls by leveraging private investment and encouraging growth and renewal of the tourism industry in the City of Niagara Falls.  For more information, visit https://esd.ny.gov/usa-niagara-development-corporation-6.
###