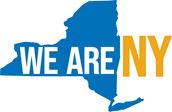 Project Supported by $4.1 Million in State Grants   
New Center Will Offer Visitors Information on Cemetery's History and Support Preservation Efforts
Renderings Available Here
Governor Kathy Hochul today announced the groundbreaking of the Green-Wood Cemetery's $34 million Education and Welcome Center in Sunset Park, Brooklyn. Founded in 1838, the Green-Wood Cemetery is one of the earliest rural cemeteries in the United States and is the final resting place for many notable figures and a popular destination for visitors from around the world. To promote the Cemetery's history to the broader public, the Green-Wood Historic Fund will construct a 22,000-square-foot Education and Welcome Center to enhance the visitor experience with information about the Cemetery's history, architecture, and natural environment. Construction of the new facility is supported by $4.1 million in funding from New York State, including $2 million from the New York State Council on the Arts, $1.5 million from Empire State Development, and $600,000 from the State legislature. 
"The Green-Wood Cemetery is a unique urban oasis and a treasure trove of historical significance," Governor Hochul said. "The new Education and Welcome Center will help to unlock that treasure for visitors and further reinforce Green-Wood's role as an iconic New York cultural institution. The preservation of this landmark is crucial to our understanding of the past, our appreciation of the present, and our vision for the future." 
The Green-Wood Cemetery is a National Historic Landmark that spans 478 acres and was designed as a park-like landscape, offering visitors a tranquil and picturesque environment to pay their respects. Visitors can enjoy the Cemetery's serene natural landscape and learn of its 570,000 permanent residents, including Leonard Bernstein, Boss Tweed, Charles Ebbets, Susan McKinney Steward, Jean-Michel Basquiat, Lola Montez, Louis Comfort Tiffany, Horace Greeley, Civil War generals, baseball legends, politicians, artists, entertainers, and inventors. 
The new Education and Welcome Center will serve as the first stop for visitors to discover and explore Green-Wood. The ADA-compliant, LEED, Gold-certified building will be designed as an L-shape, surrounding two sides of the historic Weir Greenhouse with expansive views towards the Cemetery and the Richard Upjohn Main Entrance Arch. The Center will house exhibition galleries for Green-Wood's extensive art and archival collections; classroom and programming space; Green-Wood's new Center for Research; staff offices; and meeting and event space for local community organizations. 
The new Center will serve as a hub for education and community engagement, enabling visitors to learn about The Green-Wood Cemetery's significance in the region's cultural and natural history. Through interactive displays, exhibitions, and engaging programs, the Center will provide visitors with a dynamic and immersive experience that will inspire a deeper appreciation for this extraordinary site. 
New York State Council on the Arts Executive Director Mara Manus said, "This new Education and Welcome center will uplift the incredible history of Green-Wood Cemetery and chart an exciting path for its future through the expansion of arts programming for visitors from across the country and around the world. NYSCA is proud to provide $2 million in support of this vital project, that will greatly enhance Green-Wood as a cultural treasure for us to gather, find inspiration, reflect, and learn." 
Empire State Development President, CEO and Commissioner Hope Knight said, "The Green-Wood Cemetery is core to the history and identity of Brooklyn, and we honor its legacy with the groundbreaking of the new Education and Welcome Center. With an immersive experience that will breathe life into the stories of the past, the Center will inspire visitors and attest to Green-Wood's enduring importance, both now and for generations to come." 
State Senator Iwen Chu said, "I'm thrilled to see the Greenwood Education and Welcome Center open as a resource for families and communities across Brooklyn. Children and school groups will have access to exhibition galleries, classroom, and multipurpose space within the greenhouse. Greenwood's educational programs and diverse community outreach will have a new home. Thanks to Governor Kathy Hochul and all partners for creating this vital space for the community. I'm excited for local families and groups to visit and benefit from this center."  
New York Commissioner Cultural Affairs Commissioner Laurie Cumbo said, "Green-Wood Cemetery is not just the permanent residence for so many of our City's historic luminaries, it's also a nature reserve, an arts center, and education institution, all in one. With the creation of this new Education and Welcome Center, Green-Wood will be able to welcome even more visitors to experience its one-of-a-kind grounds and programming. We are proud to provide a substantial City investment in this exciting project on behalf of all New Yorkers." 
The Green-Wood Cemetery President, Richard J. Moylan said, "We thank Governor Hochul and the administration for their support as we mark the start of a new chapter in Green-Wood's storied history. As we cement our position as a leader in so many disciplines and as an anchor in this vibrant community, it's only fitting that our neighbors and visitors have a state-of-the-art and welcoming Center where they can enhance their Green-Wood experience—year-round. We are particularly excited that our new Center will serve all New Yorkers and visitors but especially our neighbors in Brooklyn." 
New York City Regional Economic Development Council Co-Chairs Winston Fisher, Partner at Fisher Brothers, and Félix V. Matos Rodríguez, City University of New York Chancellor, said, "The Green-Wood Cemetery stands as a testament to the wealth of history and cultural heritage that embodies our vibrant city. The Education and Welcome Center is an exciting development for Green-Wood, and it represents the next chapter in an important step to preserving and promoting the rich history of this remarkable site." 
Nestled in the heart of New York City, The Green-Wood Cemetery is a unique destination that welcomes 450,000 visitors annually. Its historical significance, breathtaking landscapes, and engaging programs make it a captivating attraction for domestic and international visitors. Since 1997, the Green-Wood Historic Fund has worked to preserve the cemetery's rich history, architecture, and natural beauty. The Fund organizes public events, including themed walking and trolley tours, art installations, and special seasonal events. As it continues to preserve and promote its rich heritage, The Green-Wood Cemetery will remain a Brooklyn landmark that engages visitors, creates and supports jobs, and contributes to the vibrant tapestry of New York City's economy.   
###