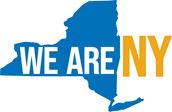 Project Includes 90,000 Square-Foot Addition Featuring a New Welcome Atrium, Multiple Interactive Exhibits, Outdoor Plaza Areas, Parking Garage and Much More
Investment Complements "Finger Lakes Forward" - The Region's Comprehensive Strategy to Revitalize Communities and Grow the Economy
Governor Kathy Hochul today announced the completion of a $75 million expansion project at The Strong National Museum of Play in the heart of downtown Rochester. More than a city-block long, The Strong features hands-on, dynamic, interactive exhibit spaces. The final piece of the project — a 90,000 square-foot addition to the Finger Lakes region's top tourist attraction features many other amenities including a new welcome atrium with interactive displays, colorful wayfinding, state-of-the-art, efficient check-in, security, and first aid service areas. The atrium also includes a high expansive ceiling and glass walls allowing the space to be bright and open during the day and letting the light illuminate the plaza at night. The first floor also features an expanded gift shop and a connection to a new parking garage, built during phase one of the project. These upgrades are expected to have a major impact on annual facility attendance, which museum officials estimate will grow to nearly one million by 2026, up from a previous high of 600,000 pre-pandemic.
"This ribbon-cutting marks the start of a new chapter at The Strong National Museum of Play, one of the region's biggest tourist attractions and the engine behind our continued efforts to further revitalize downtown Rochester," Governor Hochul said. "For more than half a century, The Strong Museum has drawn visitors from around the globe with its fascinating exhibits and dazzling displays, and thanks to state support, it will continue to do so for many years to come. Smart, strategic investments in New York's cultural anchors are key to driving tourism, creating jobs, and boosting the economy, and I remain committed to supporting institutions like The Strong Museum to unlock our state's economic potential."
Originally founded in 1968, The Strong features interactive and playful experiences surrounding the history of play, toys, dolls, and video games. The expansion includes 24,000 square feet of ESL Digital Worlds, the world's largest playable Donkey Kong arcade game, and the Hasbro Game Park. Visitors are also able to take off in a rescue helicopter, take a cross-country journey on a kid-sized train, and stroll through a tropical garden featuring hundreds of free-flying butterflies. Because of this transformative expansion project, The Strong is now one of the largest history museums in the United States.
The Strong President & CEO Steve Dubnik said "The Strong's expansion project — which includes a 90,000-square-foot wing, parking garage, and outdoor plazas — is truly transformational for Rochester and forms the heart of the new Neighborhood of Play. The opening of the new wing, which is the final piece, provides an exciting time for the museum, city, region, and state. The project would not have been possible without the early support of New York State and Empire State Development and an initial investment of $20 million through the Upstate Revitalization Initiative."
The Strong's continued transformation is just one part of a massive, three-phase, multi-million development project in the so-called Neighborhood of Play that includes the addition of a hotel adjacent to the museum, the construction of residential housing and other mixed-use space, and the creation of a new, dedicated road — Adventure Place — connecting Woodbury Boulevard to Union Street which allowed for that development.
Empire State Development supported the project with up to $20 million made available through the Finger Lakes Forward Upstate Revitalization Initiative and through an additional $2 million capital grant for the construction of the Welcome Atrium and Portal of Play gateway building.
Empire State Development President, CEO & Commissioner Hope Knight said, "New York State doesn't play around when it comes to investing in the tourism industry. Thanks to Governor Hochul's strong commitment, great things are happening statewide — and there's more ahead. The incredible expansion of the Strong National Museum of Play will help to draw even more visitors to the heart of downtown Rochester, having a real economic impact on the city and region for many years to come."
This strategic investment will strengthen the region's tourism efforts, building on the already significant impact the industry has had on the regional economy. Tourism efforts in the Finger Lakes region support more than 33,000 jobs across its nine counties.
Empire State Development Vice President and Executive Director of Tourism Ross D. Levi said, "The Strong National Museum of Play is a world-class destination in the heart of the Finger Lakes that has welcomed generations of guests from across the globe, and has been a great partner to I LOVE NY. Its game-changing expansion with new exhibits, an outdoor game park and the surrounding Neighborhood of Play with themed dining and playful lodging will encourage even more people to explore and experience the magic and wonder of the Strong, reminding guests how easy it is to love New York."
Senate Majority Leader Charles Schumer said, "The Strong Museum's expansion is a win-win, both for the families, children, and visitors who will get to enjoy everything the museum has to offer, as well as for all of Rochester as the city notches a new 'high score' in their revitalization efforts. I was proud to kickstart the expansion by securing the $16 million to fill in the Inner Loop, which made way for the expansion and Neighborhood of Play - as well as the $7.5 million American Rescue Plan grant needed to complete Strong's renovations.  Now with over $160 million in added tourism revenue and over 120 new, good-paying jobs, the Strong Museum has cemented itself as an anchor for downtown tourism and economic development."
Representative Joe Morelle said, "The Strong Museum is an essential part of our vibrant community fabric, a world-class tourist attraction, and an asset to our regional economy. I'm proud to have delivered funding for this 90,000-foot expansion which is going to bring joy to thousands of children and families in Rochester and beyond. I look forward to what the future holds for The Strong and the world's only Neighborhood of Play."
State Senator Jeremy Cooney said, "The transformative expansion at The Strong and the surrounding Neighborhood of Play kicks off a new era for Downtown Rochester. New York State understands the need to grow the Upstate tourism industry and was proud to invest in this project. With my District Office merely a few blocks away, I look forward to seeing the fruits of this deeply impactful project, and its role in the revitalization of our city's center."
Assemblymember Harry Bronson said, "Bringing visitors to Rochester is vital to our economy. The Strong Museum of Play has been a regional institution for many years, and this expansion will enable it to become a national attraction. The investments we make in cultural institutions benefit our broader economy. Tourism dollars extend to small and mid-sized businesses throughout the city and county, helping our community achieve its goal to become a vibrant place to live, work and play, as well as attracting new ventures."
Monroe County Executive Adam Bello said, "The Strong National Museum of Play has always been a hometown treasure, a place for parents and children to connect as they explore together. This expansion will enhance the museum's reputation as one of the region's most important cultural destinations, drawing visitors to Monroe County and boosting the local economy. It's a great example of the kind of partnerships and strategic investment that will benefit our community in so many different ways for years to come. I thank Empire State Development and Gov. Kathy Hochul for their continued investments in our region."
City of Rochester Mayor Malik Evans said, "The Strong Museum expansion in the heart of the new Neighborhood of Play was a foundational cornerstone that supported the success of the Inner Loop East project and now serves as a milestone of progress for Rochester's continued transformation. I want to congratulate the development team on the completion of this project and thank them for making this investment in our city. I am also grateful to Governor Kathy Hochul and Empire State Development for helping us create a safe, equitable and prosperous Rochester by inspiring hope and delivering opportunity for everyone."
Greater Rochester Chamber of Commerce President and CEO and Finger Lakes Regional Economic Development Council Co-Chair, Bob Duffy said, "The completion of The Strong National Museum of Play's $75 million expansion project is a significant milestone for Rochester's economy and tourism industry. This transformative development will undoubtedly enhance the region's appeal as a top tourist destination and contribute to the revitalization of our community. Greater Rochester Chamber of Commerce applauds Governor Hochul's commitment to fostering economic growth and supporting strategic investments that drive our region forward."
Visit Rochester President and CEO Don Jefferies said, "The transformative expansion at The Strong National Museum of Play will have an incredible and long-lasting impact on the entire tourism industry in Rochester and Monroe County. The Strong Museum expansion, and the subsequent Neighborhood of Play development, are yet another reason to visit Rochester in the year ahead. The tourism industry plays a significant role in our economy in Monroe County, and this expansion at The Strong will only further that impact, bringing more visitors and more visitor spending into the Greater Rochester and Finger Lakes regions."
For additional information about The Strong, visit, https://www.museumofplay.org/.
Accelerating Finger Lakes Forward 
Today's announcement complements "Finger Lakes Forward," the region's comprehensive strategy to generate robust economic growth and community development. The regionally designed plan focuses on investing in key industries including photonics, agriculture and food production, and advanced manufacturing. More information is available here.
About Empire State Development
Empire State Development (ESD) is New York's chief economic development agency (www.esd.ny.gov). The mission of ESD is to promote a vigorous and growing economy, encourage the creation of new job and economic opportunities, increase revenues to the State and its municipalities, and achieve stable and diversified local economies. Through the use of loans, grants, tax credits and other forms of financial assistance, ESD strives to enhance private business investment and growth to spur job creation and support prosperous communities across New York State. ESD is also the primary administrative agency overseeing the Regional Economic Development Councils and the marketing of "I LOVE NEW YORK," the State's iconic tourism brand. For more information on Regional Councils and Empire State Development, visit www.regionalcouncils.ny.gov and www.esd.ny.gov.
###