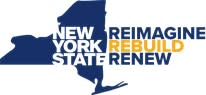 Goal to Reach 100% Capacity by July 4
Governor Andrew M. Cuomo today announced that beaches and pools will operate with six-foot social distancing in anticipation of Memorial Day. New York State's goal is to reopen them to 100 percent capacity by July 4.
"All the COVID-19 numbers are trending in the right direction, and as more New Yorkers get vaccinated, it's important not to lose any of the significant progress we've gained. As the numbers go down, we can incrementally reopen the economy, and we're going to allow beaches and pools to operate with six-foot social distancing in time for Memorial Day," Governor Cuomo said. "Our hospitalization rate is below 2,000 for the first time since mid-November and our statewide 7-day average positivity rate has declined for 37 straight days. The infection and hospitalization rates are a function of our actions, and each New Yorker has shown tremendous strength and resilience to get these numbers down. As we get closer and closer to defeating COVID once and for all, everyone must continue to practice the behaviors we know work to slow the spread - washing hands, wearing masks and social distancing."
###
Read the full press release here.