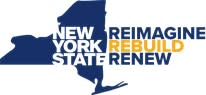 Design-Build Project is On-Budget Despite COVID-Related Challenges 
New State-of-the-Art Spaces Will Provide a Boost to Hospitality and Tourism Industries 
Key Part of Governor Cuomo's Midtown West Redevelopment Plan 
Governor Andrew M. Cuomo today announced the construction completion of the historic $1.5 billion Jacob K. Javits Convention Center expansion, proving the effectiveness and efficiency of the design-building process in New York State. The massive project, which will add 1.2 million square feet of total event-related space on Manhattan's West Side, was completed on budget despite the challenges related to COVID-19. Expanding the Javits Center, which has operated as the busiest convention center in the United States, furthers Governor Cuomo's efforts to continue New York City's role as a leading tourism, hospitality and business destination, and the project serves as a key part of the Midtown West redevelopment plan, including the transformation of Pier 76 directly behind the six-block convention center.  
"Re-investing in on our infrastructure is critical to restarting our economy after COVID-19, and the expansion of the Javits Center will play a pivotal role in attracting people back to New York and supporting local businesses," Governor Cuomo said. "From operating as a COVID-19 field hospital to the largest vaccination center in the United States, the Javits Center has demonstrated its importance to the recovery and resurgence of the Empire State, and this project reinforces their part in New York's economic future." 
With state-of-the art equipment and cutting-edge technology, the expanded Javits Center on Manhattan's West Side will feature 50 percent more front-of-house and back-of-house areas, including new exhibit and meeting room spaces, a glass-enclosed rooftop pavilion and a truck marshaling facility that will accelerate event operations and reduce traffic congestion. Thanks to the innovative design-build process and proper planning and coordination, the $1.5 billion project is on-budget - despite the loss of two months of work due to the statewide suspension of non-essential construction last year. The project's rooftop spaces, including a pavilion, an outdoor terrace, a greenhouse and a one-acre farm, will be completed in the coming weeks. 
Empire State Development Acting Commissioner and President & CEO-designate Eric Gertler said, "The Javits Center has long been a vital showplace for pioneers, companies, and entrepreneurs across diverse industries who seek to highlight innovations to new audiences and key markets. The newly completed expansion and upgrades will ensure that Javits remains a world-class destination for conventions and premier events, offering an impressive welcome to visitors from around the globe."
President and CEO of New York Convention Center Operating Corporation Alan Steel, said, "After more than a year of unprecedented challenges, this expansion comes at a critical time for our city, our state and our industry and serves as a sign of hope and rebirth for New Yorkers. With new dynamic spaces and a focus on sustainability and efficiency, this project will reduce our impact on the community while improving our operations and allowing us to host a greater variety of events than ever before." 
TVS Principal, Rob Svedberg, FAIA, said, "The Javits Center is an iconic landmark and an essential economic engine for New York City. With this expansion, the Javits Center will set a new industry benchmark for sustainability, technology, flexible event space and a first of its kind truck marshalling facility to greatly reduce traffic in the surrounding neighborhoods. The extraordinary views from the expansion out to the city have never been seen before and will create an entirely unique guest experience that no other city in the world can match."
President of Lendlease Construction LMB Inc. Steve Sommer said, "On behalf of the Lendlease Turner Joint Venture, we are proud to achieve substantial completion for our clients, the State of New York and the New York Convention Center Development Corporation, on the Jacob K. Javits Convention Center expansion. The Lendlease Turner Joint Venture is honored to have built this iconic structure that will lead New York City into the next millennial."
Vice President and General Manager, Turner Construction Company Chris Zegler said, "It has been an honor to partner with the great State of New York as well as Lendlease, all the design professionals, and trade partners on the expansion of this world-class facility. It has been an incredibly rewarding experience to help shape the future of the Jacob K. Javits Convention Center."
The expanded Javits Center, operated by New York Convention Center Operating Corporation, will feature more than 200,000 square feet of new meeting room and pre-function space, including a 54,000 square-foot special event space — the largest event space of its kind in the Northeast. All of the new exhibition and meeting spaces will be equipped with the latest technology in lighting fixtures, heating and cooling systems and wireless connectivity. The newly-expanded Javits Center will feature 500,000 contiguous square feet of event space, which will help the facility attract international business conferences. More than 3,000 solar panels also will be constructed on the new and existing rooftops as part of a new program with the New York Power Authority. 
Starting on May 19 as Governor Cuomo announced earlier this week, in conjunction with protocols established by the state Department of Health, the Javits Center will be allowed to host events at 30 percent capacity with safety restrictions in place, such as social distancing and designated entry and exit points for all participants.  
Since January 13, the Javits Center has operated the state's largest vaccination center in conjunction with the state Department of Health and the New York National Guard, providing vaccines to more than 500,000 vaccines. Due to the massive size of the convention center, events will be allowed to operate in available spaces while the vaccination center operations continues. The Javits Center also has constructed a state-of-the-art broadcast studio, which can host virtual and hybrid events. 
The Javits Center expansion is part of Governor Cuomo's broader Midtown West redevelopment, announced as part of the 2021 State of the State agenda. New York State has previously led several successful macro-development projects in New York City, including Battery Park City, Roosevelt Island and the transformation of Times Square. In addition to the recently opened Moynihan Train Hall, other elements of Governor Cuomo's vision for Midtown West include the Empire Station Complex project, extending the High Line, replacing the Port Authority Bus Terminal and transforming Pier 76 from a tow pound to a waterfront park. The $51 billion plan will create 196,000 jobs, new outdoor spaces, improved public transit and pedestrian connections, and bring commercial and affordable housing opportunities to the burgeoning Manhattan neighborhood. 
In March, a Request for Proposals was issued for the commercial or mixed-use development of 418 11th Avenue, one of the last remaining vacant parcels on the West Side of Midtown Manhattan. The approximately 1.2-acre site, referred to as Site K, is owned by the New York Convention Center Development Corporation - an Empire State Development subsidiary - and is located directly east of the main entrance to the Javits Center. 
###