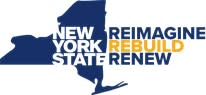 Facility for Backstretch Workers Honors Late Philanthropist, Horse Owner and Breeder Marylou Whitney
Photos Available Here
Governor Andrew M. Cuomo today announced the completion of the Marylou Whitney Pavilion at the Saratoga Race Course. The 5,000-square-foot facility will replace a temporary tent used by backstretch workers for functions and dinners at Saratoga. The Pavilion will serve as a permanent structure to be used during the Saratoga Meet for those who live and provide care for horses through the season. Marylou Whitney and her husband John Hendrickson founded the Saratoga Backstretch Appreciation Program, which provides entertainment, food, movies and language instruction to Backstretch workers during the Saratoga Meet.
"Marylou Whitney, along with her husband John Hendrickson, was extraordinarily devoted to the well-being of the seasonal backstretch workers who are the backbone of the Saratoga Race Course, and this new pavilion is a fitting tribute to their efforts," Governor Cuomo said. "With the Pavilion now complete, backstretch workers now have a permanent home for the services and entertainment they need and rightly deserve."
In 2019, Governor Cuomo declared August 3, 2019 Marylou Whitney Day and announced plans to honor Mrs. Whitney's contributions to the sport with the construction of the pavilion for the benefit of backstretch service employees. The Pavilion's construction was funded through a $250,000 capital grant administered by the Dormitory Authority of the State of New York.
John Hendrickson said, "Marylou was about elevating people, and the completion of this Pavilion does that for the backstretch community. I know she would have been very pleased, and I cannot thank the Governor enough in making this project a reality."
NYRA President & CEO Dave O'Rourke said, "Thanks to Governor Cuomo, Marylou Whitney's unparalleled contributions to the backstretch community will now be permanently recognized through the Marylou Whitney Pavilion. As we open the 2021 summer meet here at Saratoga Race Course, and to reunite with our fans, we will be thinking of Marylou knowing that there is no place she would rather be." 
Under Governor Cuomo's leadership, the New York State Gaming Commission has implemented policy changes and regulations to improve the living conditions for backstretch workers at New York tracks including establishing standards for living quarters. The regulations ensure that accommodations for workers meet certain size requirements, provide safe water, adequate pest control and garbage removal.
As a result, The New York Racing Association, Inc. has undertaken a significant, long term project to address and improve the quality of backstretch housing.  Since 2013, NYRA has upgraded and renovated all 36 residential backstretch buildings on the Oklahoma Training track side of the Saratoga Race Course property, which are used during the spring and fall training seasons in addition to the summer meet.
###