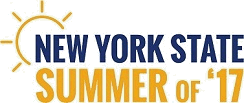 12 Projects to Improve and Expand Access to State Park Hiking Trails
Encourages New Yorkers to Visit 2,000-Mile Trail System and Tourist Attractions across the State

Governor Andrew M. Cuomo today announced $2 million in funding for projects to improve and expand State Park hiking trails and outdoor recreational access projects in State Parks across New York. The 2017-18 budget dedicates nearly $2 million to 12 projects to improve and expand State Park hiking trails and outdoor recreational access projects across New York. The trails projects are part of the Governor's historic commitment to improving parks and expanding access to outdoor recreation through the NY Parks 2020 Plan.

"The New York State Parks system offers unparalleled natural beauty and world-class outdoor recreation in every corner of this state," Governor Cuomo said. "With this funding, we ensure that our trails and parks remain second to none, and I encourage residents and visitors alike to get out this summer and explore the hundreds of miles of trails New York has to offer."

New York State Parks feature more than 2,000 miles of trails, from challenging mountain climbs to gentle bicycle paths. Visitors can hike the popular Indian Ladder Trail in Thacher State Park then stop in the new Thacher Park Center, or ride along the new 8-mile  Black Diamond Trail near Ithaca, or explore back country trails in thousands of acres of protected open space in the rugged Hudson Highlands. For more information on trails in State Parks, visit www.nysparks.com/recreation/trails.

"With Memorial Day here and summer around the corner, it's a great time to hike, jog, bike or horseback ride," Rose Harvey, Commissioner of the Office of Parks, Recreation and Historic Preservation said. "State Park trails offer some of the best places to explore and discover New York's great outdoors, and I'm grateful to Governor Cuomo for improving and expanding the trail networks in our State Parks."

Trails projects moving forward in the following regions include:

Central New York
Green Lakes State Park – $75,000 for improvements to the park's 20-mile multiuse trail network.
Finger Lakes
Fillmore Glen State Park -- $20,000 for repairs to the gorge and other trails.
Hudson Valley
Rockefeller State Park Preserve -- $500,000 to rehabilitate a portion of the beautiful carriage trails in Pocantico Hills that were designed by John D. Rockefeller with inspiration from Frederick Law Olmsted. This multi-phase project will restore the historic design and increase safety on the trails, ensuring generations to come will be able to enjoy this beautiful woodland setting and park preserve.
The Harlem Valley Rail Trail -- $300,000 to resurface an older section of this popular bike route that runs through Dutchess and Columbia counties. Close to Taconic State Park, this trail offers the opportunity to ride to or from the state park and through the beautiful fields and farmland of our eastern counties.
Hudson Highlands State Park – $250,000 funding for trail rehabilitation that meets the standards for trail accessibility.  With views of the Hudson River and the spectacular Highlands as well as improved fishing access this trail will continue to activate Denning's Point as part of Hudson Highlands State Park Preserve.
Taconic Region State Parks – $40,000 to design and create interpretive panels for multiple parks in the region.
New York City
Clay Pit Ponds State Park -- $110,500 to improve accessibility for the park's six trails.
North Country
Westcott Beach State Park – $30,000 to create a connection trail and parking for the public to access trails on both sides of State Route 3.
Southern Tier
Ithaca Area Gorge Parks – $50,000 for materials for stone stair and step improvements in gorge trails throughout the region.
Western New York
Allegany State Park -- $85,000 to improve hiking and backcountry trails in the 65,000-acre park as well horse trail improvements to improve the durability and safety of the trails; and improve the trail experience for equestrian groups.
Niagara Falls to Artpark State Parks – $50,000 to design and install Niagara gorge wayfinding signage to improve patron safety and education.
Whirlpool and Devil's Hole State Park -- $450,000 to continue the rehabilitation of the historic access trail stairways to the Niagara Gorge.

The State Park trail improvements reflect Governor Cuomo's commitment to improve parks outdoor recreation and expand opportunities for hiking and cycling. Governor Cuomo is creating the Empire State Trail, the largest state multi-use trail in the nation. The state has committed $200 million in the 2017-18 budget to develop 350 miles of new trail to create a statewide pathway for hiking and biking along scenic vistas and through charming, historic communities.
###


Additional news available at www.governor.ny.gov
New York State | Executive Chamber |press.office@exec.ny.gov | 518.474.8418