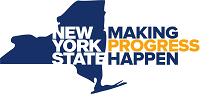 SkyRide Now Ready to Take Passengers to The Jumping Towers      
Governor Andrew M. Cuomo today announced that the Lake Placid Olympic Jumping Complex's new gondola is now open to the public. The SkyRide is a six-cabin gondola that can carry as many as eight athletes, coaches, officials, visitors and items of equipment per cabin. It travels from the complex's base lodge to the 90-meter and 120-meter ski jump towers.
"The SkyRide gondola is the latest piece in our continued effort to modernize the Lake Placid Olympic Jumping Complex for not only the world-class athletes that train and compete there, but for the thousands of guests that visit the complex year-round," Governor Cuomo said. "With this new gondola, the Olympic Regional Development Authority will continue to attract and support large-scale, global events at this facility."
The SkyRide Gondola was supplied and installed by Doppelmayr Garaventa Group, which is based in Switzerland. The $2.9 million project was completed in less than 12-months.  
Other recent additions to the complex include new top speed frost rails in both the 90-meter and 120-meter outruns, a multi-color LED system that tracks jumpers as they descend and a state-of-the-art communication system connecting event officials, judges and the public address announcer during training and competition.
A new zip line adventure ride for all ages is under construction and anticipated to be complete in the Summer 2020 along with a series of site work that will make snowmaking on the venue more efficient.
The Governor has committed nearly $240 million in funding to support the state's Olympic Regional Development Authority properties since taking office. This unprecedented investment in capital projects is improving the infrastructure of Olympic venues to ensure they continue to attract and support large-scale, global events, and operate as year-round attractions.
The Olympic Jumping Complex is open daily from 9 a.m. to 4 p.m.          
###
Additional news available at www.governor.ny.gov
New York State | Executive Chamber |press.office@exec.ny.gov | 518.474.8418