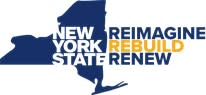 Formerly Known as Thunder of Niagara Air Show, The Thunder on the Buffalo Waterfront Air Show Will Take Place at Buffalo's Outer Harbor with Ticketing and Social Distancing Measures to Keep Audiences Safe
Ticketing and More Information Can be Found Here.
Governor Andrew M. Cuomo today announced the Thunder on the Buffalo Waterfront Air Show will take place at Buffalo's Outer Harbor on June 19 and 20, 2021.  The outdoor event, sponsored by the Vein Treatment Center, features a range of military and civilian aerial performers. This year's show will be a ticketed event, with reduced capacity and social distancing measures in place to ensure a safe return of the exciting Western New York tradition. For those who enjoy hearing fighter jets scream across the skies, the sight of old fighter planes or are just aircraft lovers, be prepared because this year's show is not one to miss.
"New Yorkers have done incredible work in the fight against COVID and as the state's positivity rate continues to decline, we've been able resume many of the events that New Yorkers look forward to every year," Governor Cuomo said. "The Thunder on the Buffalo Waterfront Air Show is no exception. This beloved event will serve as a phenomenal welcome back for Western New Yorkers and visitors alike, and we are nothing short of thrilled that it is able to resume in 2021."
Lieutenant Governor Kathy Hochul said, "What better way to welcome Western New Yorkers and visitors back to the waterfront than with an air show at Buffalo's Outer Harbor. We are ensuring that all safety precautions are in place to protect everyone involved. I encourage everyone to make plans now to see this family-friendly event, and continue to support local businesses along the waterfront that need our help now more than ever."
The Thunder of Niagara, one of the largest air shows in the country, was previously cancelled due to the COVID-19 pandemic. It now returns with a new name and a new location - Thunder on the Buffalo Waterfront presented by the Vein Treatment Center on Buffalo's Outer Harbor.
This year's show will feature the U.S. Navy Blue Angels who will be celebrating its 75th anniversary season. Also performing are the Air Force F-16 Viper Demo Teams, the United States Canadian CF-18 Hornet Demo Team, Air Force A-10 Thunderbolt (Warthog), World Aerobatic Champion Rob Holland, as well as many other world-class civilian performers. The Air Show will take place Saturday, June 19 and Sunday, June 20, 2021 from noon to 4 p.m. each day.  Entry to the venue will open at 9 a.m. both days, three hours prior to show time. A portion of the proceeds will support the Buffalo and Erie County Naval and Military Park.
"As a longtime air show director, I am proud to partner with ECHDC and the Buffalo Waterfront team to bring the first ever air show to downtown Buffalo over Lake Erie," said Ben Canetti, Air Show Director.  "The COVID-19 pandemic has prevented military bases from hosting air shows, which has given us the unique opportunity to bring this years' show from the Niagara Falls Air Force Base to the Buffalo Waterfront. Here we are able to capitalize on a larger area and provide a safe and socially distanced high-powered event."
Visitors must purchase a ticket in advance. Three ticket types will be available, in accordance with health and safety protocols on social gatherings and distancing:
VIP - Includes reserved outdoor seating, a chalet to escape the sun, catered lunch, unlimited beverages, private VIP restrooms, reserved parking space, and an incredible view of the event.  VIP tickets must be purchased in blocks of two or four in observation of Erie County and NYS COVID-19 guidelines. 
VIP Premium - Includes all the amenities of a VIP ticket, but also includes prime seating right along the water with the best views.  VIP Premium tickets must be purchased in blocks of two or four in observation of Erie County and NYS COVID-19 guidelines. 
General Admission - Vehicle - Drive-in tickets will allow the attendee a parking spot and space next to their vehicle to watch the show. General admission vehicle tickets allow for up to five persons per vehicle.  An "XL Vehicle" ticket will be offered for larger vehicles, allowing for up to eight passengers.  Campers, RV's, buses, travel trailers and all other oversized vehicles, 80" or taller, are not permitted. 
Discounted hotel packages for visitors traveling to Buffalo for the air show are available through Buffalo Waterfront Group partners at The Travel Team. Packages include exclusive "Air Show Jetsetter Packages" featuring one night overnight accommodations at downtown Buffalo hotels and air show ticket starting at $198 including breakfast for two and overnight parking. For more information, contact The Travel Team at 1-877-357-4471 or events@thetravelteam.com
Tickets will go on sale on Friday, May 14 at 10 a.m. Tickets are limited and only available online here. Parking at the Outer Harbor will be reduced, and only those with a ticket will be allowed to enter the show area. The Buffalo Waterfront Group will have additional staff on hand to enforce all health and safety guidelines, including required face coverings and social distancing.
State Parks Commissioner Erik Kulleseid said, "The Outer Harbor is a spectacular place to be no matter what the occasion. There is no doubt that the excitement of an air show will bring a new energy and hopefully introduce more people to this wonderful waterfront."
ECHDC Chairman Robert Gioia said, "ECHDC is excited to host the first air show ever to take place on the Buffalo waterfront. The Outer Harbor is the perfect location for families to have a thrill filled adventure as a wide variety of performers speed across the sky. Combined with Canalside activities, the waterfront is this summer's perfect destination for a weekend getaway."
Vice-President of Operations and Finance for Buffalo Waterfront Management Group Kevin Parkinson said, "The Buffalo Waterfront Management Group is excited to bring events back to the Outer Harbor this summer in a safe and enjoyable environment. The air show will be a one-of-a-kind event for our Waterfront and we are thankful to everyone that is working together to make this possible."
Paul J. Marzello, Sr., President & CEO, Buffalo & Erie County Naval & Military Park, said, "The Buffalo & Erie County Naval & Military Park is extremely grateful that a portion of the proceeds will be donated to the Save The Sullivans Campaign. We are particularly proud that the public will get to see the US Navy's Blue Angels perform. They will ignite the Buffalo Waterfront with a display of awesome power and unprecedented flying skills. If this is your first air show, it certainly won't be your last."  
Congressman Brian Higgins said, "This is a great opportunity to showcase the skill of our service members and other talented pilots at a beautiful venue on Buffalo's waterfront." 
Senator Tim Kennedy said, "As more New Yorkers become vaccinated and we move towards brighter days, Buffalo's waterfront is reenergized once again. The Thunder on the Buffalo Waterfront Air Show has become a tradition for many families, and I'm pleased to see it's safe return just in time for summer. This will not only prove to be a much needed, exciting outdoor experience, but it also promises to support a worthy cause - the Buffalo & Erie County Naval & Military Park's Save The Sullivans Campaign." 
Senator Sean Ryan said, "As more New Yorkers get vaccinated and our economy continues to reopen and recover, we are all looking forward to the warmer months ahead and enjoying outdoor activities. Buffalo's waterfront is an incredible asset and a great place for family-friendly fun, and I encourage all Western New Yorkers to get vaccinated and enjoy events along our waterfront and across the region."   
Assembly Majority Leader Crystal Peoples-Stokes said, "While COVID-19 prevented the airshow from performing at the Niagara Falls Air Base, I'm excited that families will still get an opportunity to experience this event on Buffalo's Outer Harbor, now as 'Thunder on the Buffalo Waterfront Air Show'. I applaud Erie Canal Harbor Development Corporation and State Parks for creatively finding a way to allow this world-class event to continue for WNY."
Assembly Person Jon Rivera said, "The fact that Buffalo's Outer Harbor is now able to accommodate a show of this magnitude is indicative of its progress as a destination for events and for Western New York residents throughout the year. With more than $100 million in investment made to the Outer Harbor in the last decade, and with additional funding from New York State coming to the property in the near future, the best is yet to come for Buffalo's waterfront."
Mayor Byron W. Brown said, "This is another sign we are beginning to return to normal and an exciting first for the City of Buffalo. The ability to stage an air show on Buffalo's waterfront is a direct result of our efforts to reimagine our outer and inner harbors, work that is continuing to create a world-class waterfront that supports a broad array of recreational and entertainment possibilities."
###