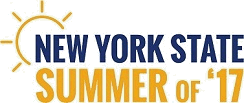 Select Swim Locations Opening Early for Memorial Day Weekend;
Governor Encourages New Yorkers to Visit State Beaches and Lakes  Throughout Summer of '17
Governor Andrew M. Cuomo today announced the beginning of swim season in New York this Memorial Day Weekend. The Governor encouraged New Yorkers and visitors alike to take advantage of a host of opportunities available at beaches and lakes across the state. From boating and canoeing to fishing and kayaking, the state is kicking off the summer swim season early at select locations throughout Memorial Day Weekend. During Summer of '17, New York offers opportunities for everyone at more than 120 locations to experience the state's celebrated seasides at ocean and lakefront developed beaches, pools and spraygrounds.

"New York's unparalleled beaches and lakes offer outdoor recreational activities that are second to none," Governor Cuomo said. "With Memorial Day weekend fast approaching, I encourage visitors from near and far to take a trip and experience these great natural gems for themselves."  ‎

"There's no better place to be when summer arrives than one of our great state parks, and this Memorial Day weekend is a great time to get a head start on summer fun,"State Parks Commissioner Rose Harvey said.

The following State Parks on Long Island will be open for swimming daily beginning Friday.

Long Island
Jones Beach State Park
Robert Moses State Park
Sunken Meadow State Park 
Hither Hills State Park

Except where noted, the following parks are open for swimming on weekends, beginning Saturday until mid-June, when they will open daily.

Capital Region
Cherry Plain State Park
Copake Falls Area – Taconic State Park
Grafton Lake State Park (open daily)
Moreau Lake State Park (open daily)
Rudd Pond – Taconic State Park
Thompson's Lake State Park
Central
Fillmore Glen State Park
Green Lakes State Park (open daily)
Sandy Island Beach State Park
 
Finger Lakes
Cayuga Lake State Park
Sprayground at Seneca Lake State Park
Hudson Valley
Rockland Lake pool
Fahnestock State Park
Lake Welch – Harriman State Park
Lake Tiorati – Harriman State Park
Mohawk Valley
Delta Lake State Park
Gilbert Lake State Park
Glimmerglass State Park
Oquaga Creek State Park
Verona Beach State Park
New York City
Indoor pool at Riverbank State Park (open daily)
Southern Tier
Bowman Lake State Park
Chenango Valley State Park
Robert Treman State Park
 
Western New York
Allegany State Park – Red House Area
Beaver Island State Park
Evangola State Park
"Our State is home to bountiful natural resources, including the spectacular beaches at DEC campgrounds. I encourage all New Yorkers--and visitors, too--to enjoy our campgrounds this holiday weekend, and all summer long," DEC Commissioner Basil Seggos said.

For more information on swimming at New York State Parks, including safety tips and a full list of swimming beaches, visit https://parks.ny.gov/recreation/swimming/ 

Many of the Department of Environmental Conservation-owned campgrounds contain beautiful beaches for swimming. DEC Campgrounds will have five facilities open for swimming this Memorial Day weekend:
North South Lake Campground, Greene Count - The biggest and most popular state campground in the Catskill Forest Preserve, offering extraordinary scenic beauty, and historical sites, such as: Alligator Rock, Kaaterskill Falls, and the former site of the Catskill Mountain House.  The provinces around the lakes have long provided visitors with exceptional views of the surrounding countryside.
 
Lake George Beach, Warren County -The beach, located on the southern end of Lake George along Beach Road in the town of Lake George, Warren County is a popular summertime resort offering many spectacular views of the surrounding area.  Last year, the beach underwent a two year improvement project that included a refurbished parking lot, reconfigured traffic flow and repaved Beach Road, and a relocated and refurbished boat launch.
 
Cranberry Lake Campground, St. Lawrence County- One of the largest remote lakes in the Adirondacks, Cranberry Lake includes 50,000 acres of wilderness, intermingled with 50 miles of well-developed trails making it the outdoor enthusiasts perfect vacation spot. The lake has been stocked with trout in the past and many of the ponds, streams and rivers support excellent trout fishing. The perfectly formed forest canopy in the campground provides excellent shade on hot summer days while the undergrowth provides excellent privacy for campers. From Cranberry Lake to other Adirondack Campgrounds requires only a short trip on a major highway.
 
Little Pond Campground in Delaware Count - Little Pond is a quiet picturesque campground located in the Catskill Forest Preserve which offers a leisurely hiking trail around a 13-acre pond, and the opportunity to venture along trails leading to the ruins of an old farm or enjoy breathtaking views atop the Touchmenot Mountains. The campgrounds, beach, boat rental, and Junior Naturalist Program offers fun for all ages; and for the primitive camper, we offer remote sites on the back side of the pond. Little Pond is located minutes from Beaverkill, a world renowned fly fishing stream.
 
While these beaches are fun, New York State reminds visitors to enjoy them in a safe and healthy way by swimming safely, wearing sunscreen and drinking enough water to avoid dehydration.  

"We encourage visitors to take advantage of the many opportunities for recreation and physical activity available at beaches and lakes throughout New York State while keeping health and safety in mind," State Health Commissioner Dr. Howard Zucker said.  "Taking a few simple steps to protect your health doesn't take much time and will pay dividends in the long run."

Enjoying the sun's rays is a highlight of spending time at the beach, and wearing sunscreen will make for a more enjoyable and healthier experience. Choose a sunscreen with both UVA and UVB protection, and apply it 30 minutes before hitting the beach. Choose a water-resistant or waterproof sunscreen if you are going swimming, and remember to reapply every two hours.

It's important to drink enough water while basking in the sun in order to avoid dehydration. Water is crucial for your body to function properly, and you need more water than usual when physically active and in hot weather.

And be sure to follow the rules of swimming (http://www.dec.ny.gov/outdoor/96801.html) while enjoying your time at the beach.  

For more information on all the DEC facilities that offer swimming throughout the summer, visit http://www.dec.ny.gov/outdoor/107577.html.
###


Additional news available at www.governor.ny.gov
New York State | Executive Chamber |press.office@exec.ny.gov | 518.474.8418