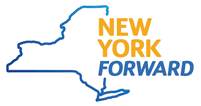 $1.2 Million Project Will Improve 2.5 Miles of the Erie Canalway Trail in the Mohawk Valley
Governor Kathy Hochul today announced the New York State Office of Parks, Recreation and Historic Preservation is rehabilitating a 2.5-mile section of the Empire State Trail from the City of Little Falls to Herkimer Home State Historic Site, in Herkimer County. The trail segment is also part of the Erie Canalway Trail.
"The Empire State Trail is the ideal destination to enjoy our state's scenic beauty and extraordinary history, and we are continuing to invest in making the trail even more inviting for healthy outdoor activities," Governor Hochul said. "Outdoor recreation is a big economic engine for our state, and for countless vendors along the trail's path who rely on the tourism year-round, and projects like this help to ensure the long-term vitality of our regional economies."
The 2.5-mile trail segment starts at Flint Avenue in the City of Little Falls, and runs east to Herkimer Home. The existing trail was constructed 20 years ago and needs rehabilitation. The project will remove the trail's aging asphalt and stone-dust surface, install a new 10-foot-wide paved bicycling and walking path, install drainage improvements to prevent erosion, and make safety improvements - including new fencing and signage.
The project is a partnership between State Parks, which owns the eastern trail section, and the City of Little Falls, which owns the western section. The $1.2 million project, funded through New York's Empire State Trail program, will start on September 27th and be completed by Memorial Day 2022.
State Parks Commissioner Erik Kulleseid said, "The Empire State Trail is an outstanding asset for local communities and a tremendous new destination for outdoor recreation across New York. With this project, we are ensuring a safer and more enjoyable experience for all to walk, run or bike this popular portion of the trail in the Mohawk Valley."
City of Little Falls Mayor Mark Blask said, "The Empire State Trail is enjoyed by hundreds of cyclists in Little Falls each month.  We are grateful to New York State Parks for their unwavering commitment to keeping the Trail in great shape.  Their dedication and partnership in this extensive rehab project is greatly appreciated.  It will ensure cyclists will get to enjoy these beautiful trails for years to come."
For safety reasons, the 2.5-mile trail segment will be closed to the public during construction. Signage will be installed marking a temporary on-road detour for long-distance Empire State Trail bicyclists.
The Little Falls section is part of the Empire State Trail, a 750-mile bicycling, walking, and running route that runs from Buffalo to Albany along the Erie Canalway Trail; and from New York City through the Hudson and Champlain Valleys to Canada. Detailed information including trail segment descriptions and an on-line map depicting the trail route, designated parking areas, and nearby attractions is available on the project website here.
###
Additional news available at www.governor.ny.gov