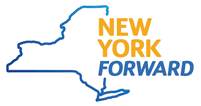 More Lake Ontario Tributaries to Receive Increased Water Flow from Erie Canal, Improving Spawning Conditions & Enhancing Angling Opportunities
New Website with Water Release Schedule Launched
Governor Kathy Hochul today announced the New York State Canal Corporation is again increasing regulated water releases from the Erie Canal into Lake Ontario tributaries in Western New York this fall to extend fishing opportunities and enhance world-class fishing destinations. Now in its second year, the pilot program through the New York Power Authority's Reimagine the Canals initiative is improving spawning conditions and enhancing angling opportunities in Monroe, Orleans, and Niagara counties -an effort that helps to increase tourism and bolster local businesses.
"Western New York already offers some of the best fishing in the nation, and the Reimagine the Canals initiative is helping to enhance this reputation," Governor Hochul said. "The fall fishing program is a fantastic and strategic use the Erie Canal to
Make tributaries even better for anglers -from the most-experienced to someone casting a line for the first time. With these unique fishing opportunities, upstate New York is attracting an even wider breadth of visitor from both near and far, giving a significant boost to local and state economies."
Now through mid-December, the New York State Canal Corporation is increasing regulated water releases from the Erie Canal into Monroe, Orleans, and Niagara County's premier streams - Oak Orchard Creek, Sandy Creek and newly added in 2021, Eighteenmile Creek. In early November and again in early December, all Lake Ontario tributaries -including Oak Orchard, Sandy, Eighteenmile, Johnson, and Salmon Creeks -will see higher flows.
These elevated flows will entice more brown trout, steelhead, and Atlantic and Pacific salmon to run up these streams, by improving conditions for the fish and providing expanded opportunities for anglers.
As part of a continued enhancement of Western New York's fishing opportunities, the Canal Corporation has also launched a website that provides anglers with information about when and where the increased water releases will take place. The landing page includes a calendar of water releases, provides links to public fishing locations, and additional resources and background for casual and serious anglers alike.
NYPA President and CEO Gil C. Quiniones said, "The success of our fall fishing program last year proved that the Erie Canal continues to be a lifeline of economic stimulation across Upstate and Western New York. NYPA is proud to usher in the second year of this program, and we look forward to continuing to build on the innovative ways in which the Canal system contributes to the economic success of New York's economy."
New York State Canal Corporation Director Brian U. Stratton said, "As the close of the Canal navigation season nears, it is a pleasure to ring in the fall fishing season in a way that benefits both anglers and tourists, as well as Western New York's canalside businesses and communities. By increasing the flow of water into key tributaries, anglers will once again be able to enjoy a longer fishing season and an even better fishing opportunity."
Department of Environmental Conservation Commissioner Basil Seggos said, "Western New York is home to some of the State's greatest fishing success stories and every year, we see people coming to this special area in search of their next big catch. I encourage all anglers, from first-timers to experts, to take advantage of this extended season by casting a line in Western New York waters and experiencing the joy that comes with fishing."
The continuation of the fall fishing program builds off last year's successful pilot, which was featured on the NBC Sports show: "On the Water's Angling Adventures." For the first time in 2020, the annual draining of the Erie Canal by the New York State Canal Corporation was designed to improve conditions for recreational fishing.
Please visit the Canal Corporation's website for additional information on the program.
###