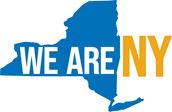 Providing New Travel and Recreation Opportunities for Cyclists and Pedestrians in Binghamton
New Shared-Use Path Along State Route 434 Links Downtown Binghamton to South Side Neighborhoods and Binghamton University
Investment Complements "Southern Tier Soaring" – The Region's Comprehensive Strategy to Revitalize Communities and Grow the Economy
Governor Kathy Hochul today announced the opening of a new 2.5-mile bicycle and pedestrian Greenway along the south side of State Route 434 Vestal Parkway in Broome County that provides new opportunities for recreation and environmentally friendly transportation in the Town of Vestal, City of Binghamton, and across the Southern Tier. The new path, which runs from Pennsylvania Avenue in Binghamton to Murray Hill Road in Vestal, adjacent to Binghamton University, links with an existing greenway at Pennsylvania Avenue to provide walkers, joggers and cyclists with easy access to downtown Binghamton, the city's South Side neighborhoods, Binghamton University's main campus and a host of businesses, stores, restaurants and recreational facilities in the area. It also ties into Binghamton's existing network of sidewalks, hiking trails and bike lanes, including a recently completed pedestrian/bicycle path along U.S. Route 11 that provides access to the north side of Binghamton, Otsiningo Park and an array of retailers and other businesses in the Town of Dickinson's popular commercial corridor.
"New York State continues to invest in infrastructure that creates new and sustainable ways to bring communities together and expand our public spaces for residents of all abilities," Governor Hochul said. "This remarkable addition to the Greater Binghamton area will not only promote active and healthy lifestyles but also foster a stronger sense of community and connection to the region's many popular destinations." 
The opening of Binghamton Greenway underscores New York State's commitment to create a transportation network that benefits all users and makes it easier for people of all abilities to get out and explore their communities, whether by walking, biking or wheeling. The $25.4 million project to create the new shared-use path began in early 2021 and also featured the installation of new signals and crosswalks along State Route 434 to enhance safety for pedestrians and motorists alike. The shared-use path is separated from the roadway by guiderails and concrete barriers, features modern lighting and landscaping, and is compliant with the Americans with Disabilities Act. The project also supports New York State's nation-leading agenda to combat climate change by promoting non-motorized forms of travel.
The State Route 434 shared-use path will also serve as a critical link in the regional Two Rivers Greenway system, a network of shared-use pathways spanning seven municipalities in Broome and Tioga counties designed to promote the region's recreational, cultural and historical attributes while providing alternatives to motorized travel.
New York State Department of Transportation Commissioner Marie Therese Dominguez said, "Walking, biking and non- motorized access are great ways to see and experience all that a community as vibrant as Binghamton has to offer and thanks to the leadership and vision of Governor Hochul, New York State is creating a transportation network that makes it so much easier to do just that. This new shared-use path will help get people out of their cars and give walkers and bicyclists more opportunities to get around the City of Binghamton and explore all of the attractions that make the Southern Tier a great place to live, work or visit."
Senate Majority Leader Charles Schumer said, "Better safety, better transportation, and a better-connected Binghamton. For years students at Binghamton University and residents on the South Side have struggled to easily access the downtown, but with the official opening of this expansive bike and pedestrian path people and economic activity can more easily flow throughout Broome County to help the region grow," said Senator Schumer. "The Binghamton Greenway will help connect people with better access to good paying jobs, education and healthy outdoor recreation linking the Southern Tier's expansive trail networks. I am so proud that thanks to funding from the Bipartisan Infrastructure & Jobs Law I led to passage this critical project for Binghamton could finally be completed."
State Senator Lea Webb said, "I am thrilled to witness the opening of The Binghamton Greenway today. This 2.5-mile bicycle and pedestrian path marks a significant leap towards sustainable mobility and recreational opportunities within our community. With a substantial investment of $25.4 million since its groundbreaking in early 2021, the Greenway exemplifies New York State's steadfast dedication to cultivating an accessible and comprehensive transportation network. My gratitude to Governor Kathy Hochul, the NYS Department of Transportation, and all of the local community leaders for their efforts in curbing car dependency and their continued investment in the Southern Tier."
Assemblymember Donna Lupardo said, "I'm very happy to see the 434 Greenway completed and in use after many years of planning. I'd like to thank my government partners, including the DOT, for their commitment to establishing this 2.5-mile bicycle and pedestrian path. It presents a new opportunity for recreation and travel between Downtown and the University; one that will be enjoyed for generations to come."
Broome County Executive Jason T. Garnar said, "Improving our infrastructure is a top priority for residents across Broome County. With this new multi-use Greenway, pedestrians and cyclists will have the same direct access to businesses and points of interest that motorists do. I appreciate the Governor's commitment to making all parts of Broome County more accessible."
Binghamton Mayor Jared M. Kraham said, "The Greenway offers residents of every age a safe recreational opportunity that showcases the City's vibrant neighborhoods and our growing connection with Binghamton University. It also promotes more sustainable modes of transportation. Thank you to Governor Hochul and the New York State Department of Transportation for this investment in the City of Binghamton and our infrastructure."
Binghamton University Vice President for Student Affairs Brian Rose said, "We are excited to see this new, well-lit, shared-use path which gives our students easy access to downtown Binghamton and dozens of businesses, stores, and restaurants, while providing expanded recreational opportunities for walkers, joggers and cyclists."
For up-to-date travel information, call 511, visit www.511NY.org or download the free 511NY mobile app. Follow New York State DOT on Twitter: @NYSDOT and @NYSDOTBNG. Find NYSDOT on Facebook at facebook.com/NYSDOT
Accelerating Southern Tier Soaring
Today's announcement complements "Southern Tier Soaring," the region's comprehensive blueprint to generate robust economic growth and community development. The State has already invested more than $7.4 billion in the region since 2012 to lay for groundwork for the plan – attracting a talented workforce, growing business and driving innovation. Now, the region is accelerating Southern Tier Soaring with a $500 million State investment through the Upstate Revitalization Initiative, announced by Governor Cuomo in December 2015. The State's $500 million investment will incentivize private business to invest well over $2.5 billion – and the region's plan, as submitted, projects up to 10,200 new jobs. More information is available here.
###