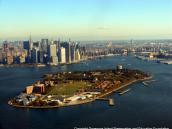 Island has become a popular destination for
Brooklyn
residents,
Brooklyn
-made products and
Brooklyn
based arts groups
New York, NY
- Governors Island has become such a popular destination for Brooklyn residents that more ferry service will be offered between the borough and Governors Island, the Governors Island Preservation and Education Corporation (GIPEC) today announced. Earlier this summer, GIPEC announced a free ferry between the Fulton Ferry Landing and Governors Island on select summer weekend days. Due to popular demand, the free ferry will now be offered every Saturday and Sunday through Labor Day weekend. Ferries run every 20 minutes between Fulton Ferry Landing and Governors Island on these weekends.       This summer, Governors Island is also becoming a popular place for a wide array of Brooklyn based food and products, artists, and cultural groups. Earlier this season, Added Value, a non-profit organization based in Red Hook, planted a three acre sustainable organic farm at Picnic Point. The farm is open to the public and offers free educational programming for visitors. Later this summer, Brooklyn's own Blue Marble Ice Cream will begin scooping its homemade ice cream out of its eco-friendly trike. In addition, Water Taxi Beach at Governors Island sells several products made in the borough, including Park Slope sausages and Six Point Beer. "It was great to get ferry service from Brooklyn going again," said State Senator Daniel Squadron. "Expanding service is even better, with more ferries on more days, making Governors Island more accessible for millions of Brooklynites.  Governors Island has the potential to be the center of a new 21st century harbor park--a Central Park for the center of our city.  Now even more community members will be able to keep cool in the harbor this summer and enjoy an afternoon on this spectacular island." "Summer is in full swing and what better way to experience it than a day trip to Governors Island-as we all know a 'territory' of Brooklyn-and 172 verdant acres of car-free biking, walkways, green space and historic structures, including the closest land point to Lady Liberty and a quick, free ferry ride away," said Brooklyn Borough President Marty Markowitz. "A few hours on the Island, made easier by the newly expanded ferry service, offers visitors unique sightseeing and strollable parkland with a fabulous urban backdrop, not to mention all sorts of special events. Although I'm famous for saying that I 'summer in Brooklyn,' a trip to Governors Island is definitely your order to 'relax.'" "Governors Island is a great place for Brooklynites to visit," said Richard Bashner, Chair of Community Board 6. "We are so pleased that residents of Carroll Gardens, Cobble Hill, the Columbia Street District, Gowanus, Park Slope, Red Hook and many other neighborhoods across our borough will have more access than ever to Governors Island, its recreational opportunities and programs." "Direct ferry access to Governors Island is very important to our community," said John Dew, Chair of Community Board 2. "We are delighted to see that this increased service will provide a free and frequent ferry between Governors Island and Brooklyn." One of the Island's summer exhibitions, PLOT 09/This World and Nearer Ones features installations from several Brooklyn-based artists including The Bruce High Quality Foundation. This September, the 4 Heads, an artist collective from Williamsburg, will bring their second annual art fair to Governors Island. "One quarter of all Governors Island visitors are from Brooklyn," said GIPEC Chair Avi Schick. "We are so pleased to increase access to Governors Island for Brooklyn residents and that Governors Island has become a place for Brooklyn artists and cultural groups." "More than 100,000 New Yorkers have visited Governors Island so far this summer," said Dan Doctoroff, GIPEC Vice Chair. "The increase in ferry service from Brooklyn will provide additional opportunities for even more visitors to come to Governors Island over the next few months." In another effort to connect Governors Island to Brooklyn, last week, the Brooklyn Bridge Park and the Port Authority announced a new dock at Pier 6. The new dock will allow commercial water taxis to land and provide ferry service between Governors Island and Brooklyn Bridge Park, beginning next year.  Governors Island is open every Friday, Saturday and Sunday through October 11. Visitors can come to the Island to enjoy more than five miles of car free biking, picnic, take a tour, visit Picnic Point, and enjoy performances and art exhibitions. For more information on Governors Island and a full schedule of 2009 events, please visit
http://www.govisland.com/
.
How to Get to
Governors Island
Governors Island is open every Friday from 10 AM to 5 PM. On Saturdays and Sundays, the Island is open from 10 AM to 7 PM. Ferries run between Manhattan and Governors Island at least every hour on the weekend. There is also a free ferry from Brooklyn. Ferries run between the Fulton Ferry landing and Governors Island every 20 minutes on these days. For up to date ferry schedules and downloadable maps, please visit
http://www.govisland.com/
.
About the
Governors Island
Preservation and Education Corporation (GIPEC)
The Governors Island Preservation and Education Corporation (GIPEC) is responsible for the planning, redevelopment, and ongoing operations for 150 acres of Governors Island. A partnership of New York City and New York State, GIPEC seeks to bring Governors Island back to life, making this island at the center of New York Harbor a destination with great public open space, as well as future education, not for profit and commercial facilities. For more information please visit
http://www.govisland.com/
.
###
Contact
: Elizabeth Rapuano GIPEC (212) 440-2205 erapuano@empire.state.ny.us