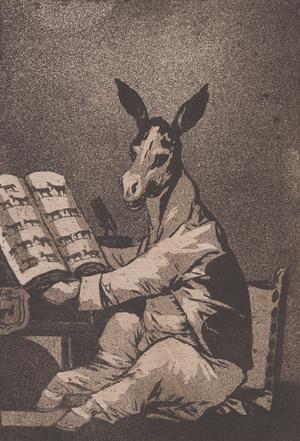 Member Opening
2 to 5 pm Saturday, January 18
Glens Falls, N.Y. – Celebrate The Hyde Collection's two winter exhibitions, Francisco Goya: The Caprichos Etchings and Aquatints and Dox Thrash, Black Life, and the Carborundum Mezzotint, with a Member Opening event at 2 pm Saturday, January 18. Enjoy a gallery talk with Jonathan Canning, The Hyde's director of curatorial affairs and programming, then light refreshments in the Art Studio. Mingle and discuss the exhibitions with fellow art lovers and community members. 

REGISTRATION is free for Museum members. 

RSVP by contacting Chelsea at 518-792-1761, ext. 349, or csears@hydecollection.org.

NOT YET A MEMBER? No problem! Non-members can pay admission plus a $5 activity fee to attend the Member Opening. If that visitor decides to register for membership, both fees will be credited toward the cost.
###
Photo: Francisco Goya y Lucientes (Spanish, 1746–1828), Asta su Abuelo ["And so was his grandfather!"], 1799, etching and aquatint, 8 7/16 x 15 15/16 in.