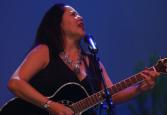 Cooperstown, N.Y. - Joanne Shenandoah, called "the most critically acclaimed Native American singer of her time" by the Associated Press, performs at The Farmers' Museum in Cooperstown on Saturday, May 26 at 7:00 p.m. Coming to town during the Iroquois Cultural Festival held at the Fenimore Art Museum, Shenandoah sings in her native Iroquois tongue. "Shenandoah's music is like a lullaby with a touch of pain and longing lingering beneath the surface. Sometimes called the Native American Enya, Shenandoah actually has a deeper, more powerful voice than the Irish thrush," in the words of John Diliberto on Amazon. A Grammy award winner, Shenandoah has won over 40 music awards, including 13 Native American music awards. Tickets are $20 each and available at the Fenimore Art Museum shop, The Farmers' Museum store, and online at https://www.fenimoreartmuseum.org/shop. The Iroquois Cultural Festival is held Saturday and Sunday, May 26-27, 10:00 a.m. - 5:00 p.m. at the Fenimore Art Museum. Festival and concert admission are purchased separately.  For more information, visit FenimoreArtMuseum.org.
###
Caption for Images attached: Grammy award winning musician Joanne Shenandoah performs at The Farmers' Museum in Cooperstown on Saturday, May 26 at 7:00 p.m. About Fenimore Art Museum The Fenimore Art Museum, located on the shore of Otsego Lake -- James Fenimore Cooper's "Glimmerglass Lake" -- in historic Cooperstown, New York, features a wide-ranging collection of American art including: folk art; important American 18th- and 19th-century landscape, genre, and portrait paintings; an extensive collection of domestic artifacts; more than 125,000 historical photographs representing the technical developments made in photography and providing extensive visual documentation of the region's unique history; and the renowned Eugene and Clare Thaw Collection of American Indian Art comprising more than 800 art objects representative of a broad geographic range of North American Indian cultures, from the Northwest Coast, Eastern Woodlands, Plains, Southwest, Great Lakes, and Prairie regions. Founded in 1945, the Fenimore Art Museum is NYSHA's showcase museum. FenimoreArtMuseum.org
About The Farmers' Museum
As one of the oldest rural life museums in the country, The Farmers' Museum in Cooperstown, New York, provides visitors with a unique opportunity to experience 19th-century rural and village life first-hand through authentic demonstrations and interpretative exhibits. The museum, founded in 1943, comprises a Colonial Revival stone barn listed on the National Register for Historic Places, a recreated historic village circa 1845, the Empire State Carousel, and a working farmstead. Through its 19th-century village and farm, the museum preserves important examples of upstate New York architecture, early agricultural tools and equipment, and heritage livestock. The Farmers' Museum's outstanding collection of more than 23,000 items encompasses significant historic objects ranging from butter molds to carriages, and hand planes to plows. The museum also presents a broad range of interactive educational programs for school groups, families, and adults that explore and preserve the rich agricultural history of the region.
###
For more information or images, please contact: Todd Kenyon, Public Relations New York State Historical Association Fenimore Art Museum/The Farmers' Museum Phone: (607) 547-1472 / E-mail: t.kenyon@nysha.org