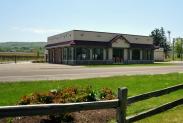 Westfield, N.Y.
- The Concord Grape Belt Heritage Association, Inc. announces the Memorial Day Weekend opening of an information center, retail outlet, and tasting room at the Grape Discovery Center on Route 20, just west of the Village of Westfield in Chautauqua County, NY. Situated in the heart of the Concord Grape Belt, the Grape Discovery Center is the cornerstone project for the Concord Grape Belt Heritage Association. It is intended to draw travelers off interstate 90 to stop and smell the grapes in season, taste local agricultural products, and learn about attractions in this area that supports 30,000 acres of grapes between Silver Creek, NY and Harborcreek, PA. In a final phase, expected to be completed by fall, an exhibit area will teach people about the history and production process of grapes for juice, wine, jelly, and new products like grape seed oil. Starting May 25
th
, the Grape Discovery Center will be open 10 am - 6 pm, seven days per week. Weekend visitors through early June will enjoy product demonstrations from Welch's and Grower's Co-op along with tastings provided by Brick Village Gourmet and other regional food processors. Julie Pfadt from Lake Erie Wine Country will be on hand to talk about grapes in relation to the wine industry. Mark Baldwin from the Roger Tory Peterson Institute and Andrew Dufresne from the Concord Grape Belt Heritage Association will be making presentations on the natural history and heritage of the area. These presentations are also part of New York State's Path Through History Weekends. The Tasting Room at the Grape Discovery Center will regularly feature wines from Lake Erie Wine Country, grape juice and sparkling grape juice, as well as wine and grape juice slushies. Cheese, crackers, salsas, and dipping oils will also be available along with local baked goods including grape pie, and other grape themed food items. Visitors can sit and enjoy samples at café tables inside or take them outside and view the surrounding vineyards on the patio designed and built by Westfield Nursery. The Concord Grape Belt Heritage Association, Inc. is a not-for-profit corporation established in 2004. Its mission is to bring greater recognition to the oldest and largest Concord grape growing region in the world. The organization's membership represents local agricultural, tourism, and wine and grape processing entities throughout a two state region in western NY and northwestern PA. The grape industry provides over $340 million per year of direct economic impact to the region. Admission to the Grape Discovery Center is free as is the available Wi-Fi. For more information and a schedule of upcoming demonstrations and workshops, visit
http://www.grapediscoverycenter.com/
or call 716-326-2003.
###
Photo
: Vineyards surround the new Grape Discovery Center in Westfield, NY. Photo by Andrew Dufresne.
Contact
:  Stephanie Burdo Communications Coordinator Chautauqua County Visitors Bureau PO Box 1441 Chautauqua, NY 14722 716-357-ILNY (4569)
http://www.tourchautauqua.com/
www.facebook.com/Tour.Chautauqua