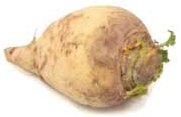 All you need is a rutabaga and a dream
Keene, N.Y.
- The third annual Great Adirondack Rutabaga Festival will take place at Marcy Field in Keene from 9:00 a.m.-1:00 p.m. on Sunday, September 5. A delicious way to spend a Sunday, the annual celebration of this wonderful root vegetable is one of only two Rutabaga Festivals in the country.  Throughout the day, attendees will enjoy tastings and demonstrations of innovative rutabaga creations by celebrity chefs, and all are eligible to enter the Rutabaga Competition, with prizes for the largest, most unique and best decorated 'bagas. There will also be kids activities, and an exciting "fetch-a-'baga" game for talented dog attendees. The day's events also include the 5k Rutabaga Run at 9:00 a.m., the High Peaks Hula Hoop Championship at 10:30 a.m., and Coronation of the Rutabaga King and Queen at 12:30 p.m. Registration for the Rutabaga 5k Run will be held on site at 8:15 a.m., and pre-registration is available at the Keene Town Hall, Cornell Cooperative Extension in Westport, or online at 
http://www.active.com/
. Entries for the rutabaga competition must be delivered for display and judging by 10:00 a.m. Extra-special-talented dog entries for the Fetch-a-'Baga do not require pre-registration.  The Festival is sponsored by the Town of Keene, the Adirondack Farmers' Market Cooperative and Adirondack Harvest. Visit 
http://www.adirondackharvest.com/
 for more information about the Rutabaga Festival and other upcoming local food events.
###
CONTACT: Kimberly Rielly, director of communications Regional Office of Sustainable Tourism Lake Placid CVB Lake Placid, Adirondacks USA 518.637.6559