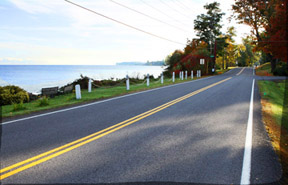 Sackets Harbor, N.Y.
- The Great Lakes Seaway Trail has been named to the Top 50 Most Comfortable Touring Drives by the Goodyear Tire & Rubber Company. The list issued by Goodyear in partnership with the America's Byways Resource Center, Duluth, MN, has been published in such   "We are pleased to have the Great Lakes Seaway Trail selected by Goodyear for Top 50 Comfortable Touring Drives honors and the spotlight on our 'only-found-on-the-Great-Lakes-Seaway-Trail' travel experiences," says Great Lakes Seaway Trail President and CEO Teresa Mitchell, Sackets Harbor, NY. The 518-mile Great Lakes Seaway Trail follows a series of signed roads paralleling the St. Lawrence River, Lake Ontario, Niagara River and Lake Erie in New York and Pennsylvania. The route includes the icon destinations of the 1000 Islands and Niagara Falls in New York and Erie's Presque Isle in Pennsylvania.   Mitchell, who chairs the National Scenic Byway Foundation, said, "This partnership between America's Byways and Goodyear Tire and Rubber Company illustrates the value of byways to private sector companies that benefit from the increasing interest in exploring our nation by car, RV, bus, and motorcycle."   A survey completed by Kelton Research indicates that 70 percent of Americans plan to take at least one road trip this autumn and that 80 percent of those surveyed would opt for a scenic, touring drive rather than driving directly to their destination.   "These top 50 touring drives encompass comfort and scenery to enhance the trip and are all within reasonable distance of major metropolitan areas," said Gary Medalis, general manager for Goodyear consumer tires.   More than 100 Great Lakes Seaway Trail themed "Outdoor Storyteller" interpretive panels enhance the driving experience along this America's Byway and National Recreation Trail. Popular travel themes for the Great Lakes Seaway Trail include birdwatching, the new Great Lakes Seaway Trail GeoTrail adventure to earn up to five GeoCoins, and French and Indian War and War of 1812 military heritage.   Learn more about the Great Lakes Seaway Trail online at
http://www.seawaytrail.com/
or by calling 315-646-1000. ###   More Info: Goodyear Tire and Rubber Company is one of the world's largest tire makers. It employs approximately 69,000 people in more than 57 facilities in 23 countries:
http://www.goodyear.com/
.   America's Byways are a collection of 150 distinct roads designated by the U.S. Secretary of Transportation and the National Scenic Byways Program:
http://www.byways.org/
.   The National Scenic Byways Foundation is a not-for-profit organization assisting byways organizations across the U.S.:
http://www.nsbfoundation.com/
.
Contact
: Teresa Mitchell (315) 646-1000, ext. 202