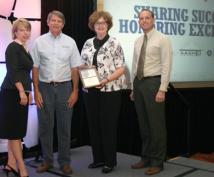 "2007 Shipwrecks of the Great Lakes Seaway Trail Project" receives prestigious award at National Scenic Byways 2009 Conference in Denver, Colorado
Denver, CO
– The "2007 Shipwrecks of the Great Lakes Seaway Trail Project" that put a spotlight on the maritime heritage resources of the 518-mile coastal region of the St. Lawrence River, Lake Ontario, Niagara River and Lake Erie in New York and Pennsylvania received a 2009 Scenic Byway Award for Interpretation during the National Scenic Byways 2009 Conference in Denver, Colorado, in August. Project partners Great Lakes Seaway Trail President and CEO Teresa Mitchell, New York Sea Grant Recreation and Tourism Specialist Dave White accepted the award on behalf of their organizations and the New York State Scenic Byways Program. The prestigious award sponsored by the America's Byways Resource Center, Federal Highway Administration (FHWA), and the American Association of State Highway Transportation Officials (AASHTO) recognizes projects of excellence from across the country. Selection by a panel of byway community experts is based on four criteria: community involvement and public outreach, partnerships, advancing the goals of the byway's corridor management plan, and innovation. "We hope these winning projects will inspire new efforts to preserve, protect, interpret, and promote the intrinsic qualities along America's Byways, distinctive routes designated by the National Scenic Byways Program," said America's Byways Resource Center Director Michelle Johnson. Seaway Trail, Inc. President and CEO Teresa Mitchell said, "Maritime history is a strong travel theme for the Great Lakes Seaway Trail. The Dive the Seaway Trail project and the 2007 shipwrecks series are among the ways we encourage divers, history buffs and travelers to explore the full length of our freshwater America's Byway to discover the rich underwater history of the 518-mile coastal region as represented by our only-found-here shipwrecks, 28 historic lighthouses and maritime museums." The "2007 Shipwrecks of the Great Lakes Seaway Trail Project" combined exhibitry on land-based and underwater maritime heritage resources exclusive to the Great Lakes Seaway Trail byway region at the Great Lakes Seaway Trail Discovery Center in Sackets Harbor, NY, with an expert speakers series, a new Great Lakes Seaway Trail maritime theme-based outdoor storyteller interpretive signage system, the Dive the Seaway Trail project and online resources to engage a broader public audience. The Dive the Seaway Trail project, coordinated by New York Sea Grant, Oswego, NY, involves local community-based stewardship of historic dive sites and underwater landscapes accessed from the Great Lakes Seaway Trail byway that is both an America's Byway and a National Recreation Trail. Dive the Seaway Trail marketing materials attract scuba divers who represent an annual economic impact of more than $108 million to New York's Great Lakes Seaway Trail region (New York Sea Grant). Seaway Trail, Inc. Board Member and Dive the Seaway Trail Project Coordinator Dave White of New York Sea Grant, Oswego, NY, said, "Our economic survey clearly showed the opportunity to interpret and market the region to divers and we found that non-diving history enthusiasts also welcomed the program series that has now set a standard for interpreting the other unique themes of New York's freshwater, Seaway Trail shoreline region." Dive the Seaway Trail is part of the New York State Blueway Trail project that is linking submerged heritage preserves with recreational opportunities, local heritage attractions, greenways and byways statewide. New York State Scenic Byways Coordinator Mark Woods of the New York State Department of Transportation Landscape Architecture Bureau said, "The awards that have been granted to this shipwrecks series recognize the link between the byway, its parallel underwater landscape and the unique destinations and experiences found only along New York's Great Lakes Seaway Trail."
The Seaway Trail, Inc. and the Seaway Trail Foundation also received awards for the "2007 Shipwrecks of the Great Lakes Seaway Trail Project" from the Upstate History Alliance in 2008 and a 2008 New York State Governor's Adventure Tourism Award. The 518-mile freshwater coastal byway was named a first-round National Scenic Byway in 1996; it was designated as a National Recreation Trail in the 1980s.
# # #
Photo
: America's Byways Resource Center Director Michele Johnson (far left) and Federal Highway Administration National Scenic Byways Program Team Leader Gary Jensen (far right) present New York Sea Grant Recreation & Tourism Specialist Dave White and Great Lakes Seaway Trail President & CEO Teresa Mitchell with a 2009 Scenic Byway Award for Interpretation for the "2007 Shipwrecks of the Great Lakes Seaway Trail Project" at the National Scenic Byways Conference in Denver, CO.
Sidebar
: Notable Ships and Shipwrecks of the Great Lakes Seaway Trail Among the notable shipwrecks of the Great Lakes Seaway Trail are: • David W. Mills - New York State's first Submerged Cultural Preserve in Lake Ontario, a 202-foot steambarge that sank in 1919, Oswego, NY • Hundreds of shipwrecks in the Eastern Basin of Lake Erie – begin your exploration at Dunkirk, NY • Islander – a wooden sidewheel steamer built in 1871 that burned and sank near Alexandria Bay, NY • St. Peter – this 135-foot, three-masted schooner rests (since 1898) intact and upright in the deep water of Lake Ontario, Pultneyville, NY • HMS Ontario, a British sloop-of-war that sank in Lake Ontario on October 31, 1780, during the Revolutionary War. Among the notable ships still cruising the waters of the Great Lakes Seaway Trail: • Maid of the Mist taking tourists to see Niagara Falls since 1854 (it started in 1846 as a U.S.-Canada ferry service), Niagara Falls, NY • World War II military vessels at the Buffalo Erie County Military & Naval Park, Buffalo, NY • LT-5 Tugboat "Nash" - one of the last remaining tugboats that served in the WWII Normandy Invasion, now dockside at the H. Lee White Marine Museum, Oswego, NY • The Flagship Niagara – an historic replica War of 1812 tall ship whose home harbor is Erie, PA (Seaway Trail Pennsylvania) • A world-class collection of antique raceboats and classic watercraft at The Antique Boat Museum, Clayton, NY And more! See for yourself! Plan your trip at
www.seawaytrail.com
, or call 800-SEAWAY-T.
CONTACT
: Teresa Mitchell, President & CEO, Seaway Trail, Inc., PO Box 660, Sackets Harbor, NY 13685, 315-646-1000,
teresa@seawaytrail.com