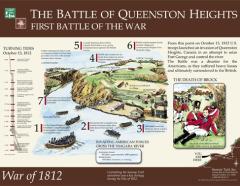 Sackets Harbor, N.Y.
- From Sackets Harbor, NY, site of two big War of 1812 battles that are cause still today for gatherings of troops - of living history reenactors for festivals and educational events in the Lake Ontario shoreline village, Seaway Trail, Inc. has announced a full complement of War of 1812 Bicentennial plans to promote travel along the 518-mile National Scenic Byway that runs alongside New York's and Pennsylvania's freshwater coast.   "This project has federal funding to accomplish many planned tasks, so we are seeking both financial and historical knowledge partners in U.S. and Canada. Based on our success with the French & Indian War Bicentennial commemoration, we expect the War of 1812 plans to result in immediate and long-term tourism and economic benefit," said Seaway Trail, Inc. President and CEO Teresa Mitchell.   The Great Lakes Seaway Trail 2011-2014 War of 1812 Bicentennial Plan includes provisions for: ·      Adding 20 40 inch x 30 inch War of 1812 themed panels to the Great Lakes Seaway Trail "outdoor storyteller" signage system ·      A short-term tourism impact brochure guide to War of 1812 sites along the byway in NY and Pennsylvania and in Plattsburgh, NY ·      A new Seaway Trail War of 1812 guidebook to replace the 1987 edition that was among the Seaway Trail travel guides that received "Best of the Byways" honors from the American Recreation Coalition ·      Incorporation of War of 1812 historic site into the Great Lakes Seaway Trail GeoTrail high tech treasure-hunting travel adventure ·      A War of 1812 reproduction theme quilt show and challenge competition at the Great Lakes Seaway Trail Discovery Center in Sackets Harbor, NY, in March 2012 ·      War of 1812 public programming at the Great Lakes Seaway Trail Discovery Center in Sackets Harbor, NY ·      A marketing campaign in historic and heritage travel publications ·      War of 1812 themed travel itineraries for families and groups ·      A series of War of 1812 feature stories in the annual Great Lakes Seaway Trail Travel Guide over next four years ·      Great Lakes Seaway Trail War of 1812 travel focus at the US Travel Association annual international travel trade show. Seaway Trail, Inc.'s current War of 1812 projects funding partners include the New York State Department of Transportation, Empire State Development, the Erie County (PA) Department of Planning (Seaway Trail Pennsylvania), the Plattsburgh Convention & Visitors Bureau, Key Bank, and the Federal Highway Administration National Scenic Byways Program.   Seaway Trail, Inc. plans to hold two spring 2011 meetings to provide 1812 Bicentennial promoters throughout the War's northern theatre, including Canada, to share information and discuss opportunities for collaboration and the creation of War of 1812 "Signature Events" similar to those recognizing the 250th French and Indian War anniversary commemoration.   More information on the Great Lakes Seaway Trail - also a National Recreation Trail - is online at
http://www.seawaytrail.com/
.
###
SIDEBAR
NY Byways Have Successful Track Record in Promoting Heritage Travel - French & Indian War Theme Collaboration a National Model
Sackets Harbor, N.Y.
- In March 2010, the nation's byway leaders participated in a webinar with Great Lakes Seaway Trail President & CEO Teresa Mitchell and Lakes to Locks Passage Executive Director Janet Kennedy showcasing the first-ever collaboration by four New York byways. The effort focused on multiple means of capitalizing on the tourism and economic value of heritage travel centered on the French & Indian War's 250th Anniversary Commemoration. Webinar moderator Byways Specialist Curtis Pianalto of the America's Byways Resource Center, Duluth, MN, said, "Sharing this case study was important for the greater byway community. This byway partnership created a shared platform for showcasing byways as the unique vehicle for discovering the story of the French and Indian War along the historic waterways of New York and Pennsylvania." In 2006-2009, the Great Lakes Seaway Trail, Lakes to Locks Passage, Revolutionary War Trail, and Mohawk Towpath partnered with I LOVE NEW YORK and the New York State 250th French and Indian War Commemoration Commission to: · publish a byway-based French and Indian War historic sites brochure · publish a full-color guidebook: Waterways of War: The Struggle for Empire 1754-1763: A Traveler's Guide to the French and Indian War Forts and Battlefields Along America's Byways in New York and Pennsylvania · develop and install a series of "outdoor storyteller" interpretive panels at destination points significant to the war · promote living history demonstrations, including NY's 2010 French and Indian War Commemorative Signature Events (The July 2009 event at Old Fort Niagara set a record attendance of 15,000 visitors there) · develop a French and Indian War theme-based website to showcase 19 historic sites in New York (17) and Pennsylvania (2) · jointly promote French and Indian War Commemorative Events to bus tour groups with the American Bus Association · partner with Mountain Lakes PBS to present and uplink a "Forgotten War" documentary to the national PBS network with downloadable resources for grade 7-12 educators and a Google Map-based travel itinerary based on the Waterways of War guidebook.   New York State Assembly Tourism Committee Chair Steven Englebright said, "Travel and history are great natural tourism partners. This new (Waterways of War) guidebook to the French & Indian War is a result of the first collaboration of New York's designated byways and provides travelers with a wonderful vehicle for exploring our history and our waterfronts. Mitchell said, "The New York-Pennsylvania French and Indian War project showcased byways as a unique way to discover the historic, cultural, natural, and recreational resources along America's Byways. The heritage travel theme allowed us to emphasize the experience of traveling along the byways to historic sites and living history experiences." Kennedy said, "The outreach created by the synergy of the four byways attracted a diverse mix of audiences - from heritage tourists and traveling educators to the US Army Times and PBS. This type of collaboration is the future of the byway programs and sets a standard for creating public awareness of how byways offer an authentic American experience of the landscapes of history, well-kept military architecture, battlefields and waterfront staging areas." The American Bus Association named the four-byway tour to French and Indian War sites among its Top 100 Events in North America for tour packagers in 2007. The NY-based partnership attracted an additional $15,000 in grant funds from Visit Erie, which manages the Seaway Trail Pennsylvania extension of the Great Lakes Seaway Trail. Mitchell said, "This project created a base for developing, interpreting and promoting the 200th War of 1812 anniversary commemoration in New York and Pennsylvania."
###
Contact
: Seaway Trail, Inc. President and CEO Teresa Mitchell, 315-646-1000 x202 Jpg: War of 1812 Great Lakes Seaway Trail outdoor storyteller interpretative panel for the Battle of Queenston Heights.