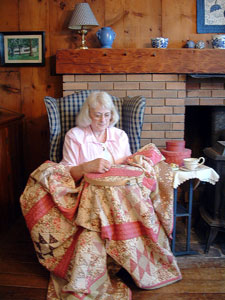 Sackets Harbor, N.Y.
- The March 17-18, 2012 Great Lakes Seaway Trail War of 1812 Bicentennial Quilt Show has added quilting heritage speaker Shirley Robinson. The fifth generation quilter and teacher will speak at 12noon and 3pm on Sunday on the third floor of the Seaway Trail Discovery Center, one of three early 19th-century venues for the show that features 1812 period-correct newly-made quilts.   In one of two presentations, Robinson, of Canastota, NY, will appear in costume to present her program entitled "Quilts of the Nations." She will portray a woman born in the late 18th century as she traces the development of American quilting from colonial days to the mid-19th century at the 12 noon and 3pm presentations.   Robinson, a graduate of Drexel University, has exhibited her own quilts in juried national shows. She is also a professional quilt appraiser. Robinson has studied quilting with American quilt historian Barbara Brackman who helped Seaway Trail officials develop the guidelines for the 1812 theme show.   Her presentation is free with admission to the Great Lakes Seaway Trail War of 1812 Bicentennial Quilt Show that will feature the uniquely-sized cot-to-coffin quilts from 18 U.S. state and Canada; living history reenactors, "President James Madison," and costumed quilters; a vintage reproduction sewing implements exhibit; demonstrations; and vendors.   Quilting is a cultural heritage tourism theme for the 518-mile National Scenic Byway known as the Great Lakes Seaway Trail in New York and Pennsylvania. For more information, visit
www.seawaytrail.com/quilting
or call 315-646-1000.
###
Photo: American quilting heritage speaker Shirley Robinson.  
Contact
: Lynette Lundy-Beck, 315-646-1000 x203