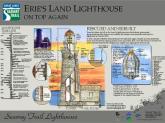 Great Lakes Seaway Trail, N.Y. and PA
- The Great Lakes Seaway Trail has partnered with VisitErie to host a travel and tourism roundtable and networking event Thursday, November 17 at the Erie Maritime Museum in Erie, Pennsylvania. The event will offer businesses and local organizations the opportunity to learn how they can benefit from tourism driven by the Great Lakes Seaway Trail National Scenic Byway that parallels 518 miles of shoreline in New York and Pennsylvania.   The free event will run from 3pm-5pm at the museum at 150 East Front Street.   "This meeting is open to anyone interested to learn more about the 518-mile Great Lakes Seaway Trail National Scenic Byway that spans the freshwater shoreline of Pennsylvania and New York, its coastal travel resources, and the benefits of Seaway Trail, Inc.'s new membership and discounts program," says VisitErie Director of Tourism Development Emily Beck. Beck is a member of the Seaway Trail, Inc. Board of Directors.   Recent Seaway Trail, Inc. initiatives to encourage travel along the byway include a 75-cache geocaching adventure, the new Great Lake Seaway Trail Volkssport Association, the Birding the Great Lakes Seaway Trail field guide, the Waterways of War guide to French and Indian War historic sites, and a host of War of 1812 Bicentennial plans for 2012 events and activities.   For more information, contact Great Lakes Seaway Trail Director of Business Relations Kurt Schumacher, 585-857-1004,
kurt@seawaytrail.com
, or with Emily Beck,
ebeck@visiterie.com
.
###
Contacts
: Kurt Schumacher, Director of Business Relations, Great Lakes Seaway Trail, 585-857-1004,
kurt@seawaytrail.com
; Emily Beck, Director of Tourism Development, VisitErie, 814-454-1000, 800-524-3743