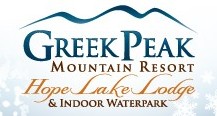 Cortland, NY.
- Greek Peak Mountain Resort will be open for skiing and snowboarding this Thursday at noon. "With the arrival of snow and colder temperatures this week, we will be offering a quality top-to-bottom skiing and riding product this weekend," said Kevin Morrin, Director of Ski Area Sales and Marketing for Greek Peak Mountain Resort. "We started making snow last Friday night, December 4th, with the hopes of opening the resort by the end of this week.
Greek Peak will open with 4 trails: Elysian Fields, Stoic, Alpha & Magic Carpet. Hours of operations will be as follows
: Thursday - 12:00 p.m. to 5:00 p.m. Friday - 9:30 am - 5:00 p.m. Saturday - 8:30 a.m. - 5:00 p.m. Sunday - 8:30 a.m. - 5:00 p.m.
Lift ticket prices for the next several days are as follows
: Thursday - $35.00 (No JSRS or Children's Programs) Friday - $45.00 (No JSRS or Children's Programs) Saturday - Lift Ticket TBD based on Lift and Trail Status. Tubing $22.00 Sunday - Lift Ticket TBD based on Lift and Trail Status. Tubing $22.00 Monday - Lift Ticket TBD based on Lift and Trail Status. Tubing $22.00 Tuesday - Lift Ticket TBD based on Lift and Trail Status. Tubing $22.00 Wednesday - Lift Ticket TBD based on Lift and Trail Status. Tubing $22.00 The Katalima will be open with limited services, including retail, rental, and food concessions. There will be no children's services offered. The Season Pass Office will be open 1/2 hour prior to the lifts opening and 1/2 hour after they are shut down. Updates will be posted on
www.GreekPeakMtnResort.com
###