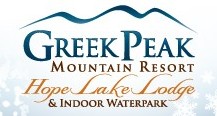 Cortland, N.Y.  - Greek Peak Mountain Resort has announced the completion of their new conference facilities which add  5,676 square feet to the existing conference space at the resort. The additional meeting rooms, Acropolis (4,500 square feet) and Leonidas (1,176 square feet) are located in the newly expanded and renovated Katalima Lodge at the base of the mountain.
The expansion was made possible through collaboration with the USDA, which also included funding for the development of the recently opened Adventure Center.
"Greek Peak's momentum in building upon its offerings has transformed their facilities into a year-round attraction. Amplifying its positive economic impact in Virgil, it is more than Central NY's largest ski resort, but a four season destination, an impressive Adventure Center and now an attractive venue for business gatherings. Its new Conference Center adds a significant element to this tourist attraction by drawing in new visitors to Greek Peak such as businesses within and beyond Virgil's community. As Greek Peak continues to expand its offerings, it creates a ripple effect of capturing attention and recognition for Virgil's exciting development.
The construction of the Conference Center was made possible through our Business & Industry Guaranteed Loan Program and has created over 70 new jobs and saved 400. Greek Peak's story is a representation of Rural Development's mission to improving the economic conditions and quality of life for communities like Virgil. Rural Development will continue to support their ideas for expansion as they continue to help the community of Virgil flourish", said Jill Harvey, USDA RD NY State Director.
  The new conference space at Greek Peak Mountain Resort builds in yet another appealing element expected to entice meeting planners, conference leaders, and organizations planning team building retreats to hold their event at the resort in Central New York.
"There's plenty to do here for the whole family, year round," says Al Kryger, President of Greek Peak Mountain Resort. "That's been our plan all along. I'm just happy to see it all come together - for us, and for Central New York."
The Conference Center and Adventure Center round out the resort's offerings and build on the success of Hope Lake Lodge, a 106 unit condo hotel; Waterfalls Spa, a 5,500 square foot luxurious Feng Shui designed international spa; and the 41,000 square foot Cascades Indoor Waterpark - all of which opened in December 2009, creating a year-round destination resort.
Greek Peak Mountain Resort, the largest Central New York ski resort was founded in 1958 and has remained at the leading edge of the ski industry with thirty-two trails, six aerial lifts, two surface lifts, beginners' slope, three Terrain Parks, including a Progression Park. Additionally, Greek Peak Mountain Resort operates a full service Nordic Center with groomed Cross Country and Snowshoe Trails with an average annual snowfall of 122 plus inches. The four season resort is located in New York's scenic Finger Lakes region, conveniently just minutes from I-81. Amenities include three new resort dining options, a world-class customized spa, fitness center, and a 41,000 square foot indoor waterpark.
The Resort is positioned adjacent to 7,000 acres of State protected land that is accessible by all residents and guests for cross country skiing, hiking, snowshoeing, and horseback riding. For more information, reservations or Spa appointments regarding Greek Peak Mountain Resort Hope Lake Lodge & Indoor Waterpark visit our website at www.GreekPeakMtnResort.com 
###
Contact:
Kevin Morrin
Vice President of Sales and Marketing
Greek Peak Mountain Resort  Phone: 607-835-6111 ext 5703
E-Mail: Kmorrin@greekpeakmtnresort.com