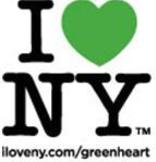 The Greenest New Yorker will visit the Adirondack Park, one of NYS's Ten Iconic Green Destinations
Visit is part of I LOVE NEW YORK's "Green Heart NY" tourism initiative
Albany, N.Y.
- New York State's "Greenest New Yorker" hits the road again this month, continuing her upstate travels by visiting the Lake Placid area February 11-14. Kaity Tsui, winner of the first-ever "Greenest New Yorker" award, will check out another one of I LOVE NEW YORK's
Top 10 Green Destinations
, as well as visit the Saranac Lake Winter Carnival & Parade.  In the fall, she explored green travel opportunities in the Capital-Saratoga region. Tsui will recount her green Adirondack experience on her blog, the "Diaries of the Greenest NYer" at
http://www.greenheartny.wordpress.com/
. "Over the past year, Kaity has served admirably as our ambassador in the promotion of green-certified restaurants and hotels, and New York's parks, beaches, waterways and mountains," said Peter Davidson, Executive Director of Empire State Development, which administers the I LOVE NEW YORK campaign. "Kaity continues to impress us with her work on behalf of the environment. She has set the bar high for our next Greenest New Yorker, setting a fine example of the things that all New Yorkers can do to assure that our natural resources will be available to enjoy for generations to come."   During her trip to the Adirondacks, Tsui will also meet with representatives from multiple green hotels and restaurants, as well as promote the upcoming LEED-certified Conference Center at Lake Placid. Tsui will travel to Lake Placid via Amtrak on February 11 and then head to Saranac Lake. That evening she will be a guest at Gauthier's Saranac Lake Inn. The lodging carries a '4 leaf' status from the Audubon Society's rigorous eco rating program for environmentally friendly resorts and hotels. Gauthier's is committed to the implementation of proactive measures to help protect and sustain the local, national and global environment. Some of the steps the Inn has taken towards green sustainability include discounted rates for guests arriving via non-gasoline modes of transportation, adoption of a paperless check-in/check-out policy, elimination of the use of Styrofoam throughout the hotel, and the conversion of their pool from oil heat to solar. For more information on the hotel, visit
http://www.saranaclakeinn.com/
. Saturday February 11 will see Tsui not only enjoying, but also participating, in the Saranac Lake Winter Carnival & Parade. The Adirondack Green Circle, a regional green advocacy organization, will march in the parade and has invited Kaity to march along with them!  The caveat: she needs to wear a medieval costume - with green in it!  The winter carnival, first held in 1897, is the oldest winter festival in the eastern United States. That evening, she will head to Lake Placid and check in to the Golden Arrow Lakeside Resort, located in the heart of the Village. The resort boasts a '5 leaf' status from the Audubon Society and is the only resort in the United State to have received this high rating. While at the resort, Tsui will meet with staff to tour their green facilities and discuss their pro-environment efforts. For more information on the Golden Arrow Lakeside Resort, please visit
http://www.golden-arrow.com/
. "The Golden Arrow has been honored to be a part of the development of the Green Heart New York program and we are excited to meet Kaity and hear all about her experience as the first Greenest New Yorker," said Jenn Holderied, owner of the Golden Arrow Lakeside Resort. The next day, Tsui will visit the facilities of the Olympic Regional Development Authority (ORDA) and receive a behind the scenes, hard hat tour of the soon-to-be-opened Conference Center at Lake Placid. The Conference Center, a green building, is being constructed with its sheltered Adirondack setting and the health and comfort of its guests in mind. Construction techniques adhere to the criteria set forth by the LEED (Leadership in Energy and Environmental Design) consortium and incorporate optimized energy performance, renewable and recycled materials and natural daylight. The center anticipates GOLD LEED certification upon completion this spring. For more information on the conference center, visit
http://www.meetingslakeplacid.com/
. Ted Blazer, President and CEO of ORDA, said: "We are thrilled to be constructing this environmentally conscious building and are proud that, especially in this beautiful part of the world, it will meet LEED standards.  Another gold for Lake Placid!" "We're excited to showcase our part of New York's Adirondack Park for Kaity," said James McKenna, CEO of the Lake Placid CVB / Regional Office of Sustainable Tourism. "The outdoor experiences available in our pristine mountains and clear waters represent the number one reason people visit the tourism-dependent Lake Placid region, and our residents, businesses and visitors recognize that it is increasingly important to preserve our destination's most valuable product."  Tsui's green accomplishments include serving as Tree Care Coordinator for MillionTreesNYC, co-chair of the New York University (NYU) Green Alumni Network Steering Committee, Secretary of the Board of Directors of the Green City Challenge, and contributing writer for One Earth Network, Inc.  Additionally, Tsui volunteers for organizations such as Green Drinks NYC, Just Food, New York Cares, the New York City Office of Recycling Outreach and Education, Trees New York and Teens Turning Green - all while completing her Master Composter and Citizen Pruner certificates. Amtrak, in partnership with I LOVE NEW YORK, is currently featuring a "Go Green" 20 percent discount for travel in NYS. For more information, visit
http://www.amtrak.com/
or call 1-800-USA-RAIL. For more information on green certifications, visit
www.iloveny.com/what-to-do/reasons-to-love-ny/green-travel-choices.aspx
.
About Green Heart New York
In 2010, Empire State Development unveiled a new "green heart" in its famous I LOVE NEW YORK logo as part of an initiative that promotes green-certified restaurants and hotels, as well as the State's parks, beaches, waterways and mountains. I LOVE NEW YORK chose ten must-see iconic green travel destinations for 2010 spanning the State's 11 tourism regions. The destinations include national icons such as Niagara Falls State Park, the Catskill Scenic Trail, Adirondack Park's high peaks, and the Empire State Building.  The list also includes scenic State Parks such as Taughannock Falls and Letchworth, as well as diverse locales such as the Fire Island National Seashore, Storm King Arts Center, Waterways of the Thousand Islands, and Roosevelt Baths and Spa.  In recognition of the 40th anniversary of Earth Day in April 2010, I LOVE NEW YORK, along with
EscapeMaker.com
, introduced the "Greenest New Yorker" contest to honor individuals who were doing their part in keeping the Empire State green and making earnest efforts to preserve the environment. I LOVE NEW YORK will be looking for a new Greenest New Yorker for 2011. Details regarding the contest will be announced in March.  Information about our Green destinations and the contest can be found on the Green Heart NY Web site at
www.iloveny.com/greenheart
.
About New York State
New York State features 11 beautiful vacation regions.  New York's attractions span from landmarks such as Niagara Falls, to the wine trails of Hudson Valley and treasures like the Baseball Hall of Fame in Cooperstown.  Whether it's wide-ranging outdoor activities for the whole family like fishing, hiking and boating, culinary wonders and farm-to-table fresh foods, or the rich history and culture of one of the 13 original colonies, New York State offers diverse activities for all travelers. For more information visit
http://www.iloveny.com/
. Media can find press releases and more at
http://www.thebeat.iloveny.com/
. For more information on the Adirondack Region of New York State, please visit VisitAdirondacks.com. I LOVE NEW YORK is currently ranked number one on social media's Twitter platform out of all Destination Marketing Organizations in North America. To follow I LOVE NEW YORK on its social media accounts, visit Facebook at
www.facebook.com/ILOVENY
, Twitter at
www.twitter.com/I_LOVE_NY
, YouTube at
www.YouTube.com/OFFICIALILOVENY
, and Flickr at
www.Flickr.com/officialiloveny
.
Empire State Development
is New York's chief economic development agency, committed to being recognized on a global scale as the economic development engine driving job growth, strategic investment and prosperity in New York State. ESD also oversees the marketing of "I LOVE NY," the State's iconic tourism brand.  For more information, visit
http://www.esd.ny.gov/
.
###
Contact
: Eric Scheffel (ESD)
escheffel@empire.state.ny.us
518.292.5274