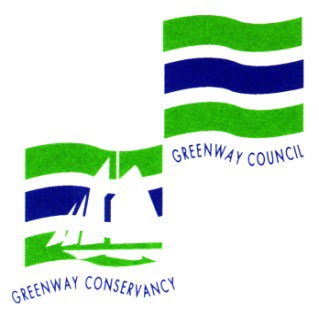 Albany, N.Y.
- The Hudson River Valley Greenway is pleased to announce that applications are now available for the
2013 Greenway Conservancy Small Grant Program.
  A total of $50,000 is available for matching grants in this year's program.  Applications are available on the Greenway website -
http://www.hudsongreenway.ny.gov/GrantFunding/ConservancyGrant.aspx
.  All applications must be postmarked by 5:00 pm, September 13, 2013.
The Greenway Conservancy Small Grant Program is an annual competitive grant funding opportunity available to communities and not-for-profit organizations within the designated Hudson River Valley Greenway area, which extends from Saratoga and Washington counties to Battery Park, Manhattan.  The program offers funding for trail planning and design, construction and rehabilitation, and education and interpretation.  Emphasis is placed on trail projects that seek to implement the goals of the Greenway Trail Vision Plan, fill in identified gaps in the Greenway Trail System, and make improvements to designated Greenway Trails.  Copies of the Hudson River Valley Greenway Trail Vision Plan may be downloaded at
http://www.hudsongreenway.ny.gov/Trailsandscenicbyways/LandTrail/HRGTResources.aspx
.                                         The Greenway Conservancy for the Hudson River Valley is a public benefit corporation established by the Greenway Act of 1991 to continue New York State's commitment to the preservation, enhancement and development of the world-renowned scenic, natural, historic, cultural and recreational resources of the Hudson River Valley, while continuing to emphasize appropriate economic development activities and remaining consistent with the tradition of municipal home rule.  One of the Conservancy's primary objectives is to establish a Hudson River Valley Greenway Trail system, that links cultural and historic sites, parks, open spaces and community centers, and provides public access to the Hudson River.  The Greenway Conservancy and the Hudson River Valley Greenway Communities Council also manage the Hudson River Valley National Heritage Area. Visit
http://www.hudsongreenway.ny.gov/
for more information on the Greenway Visit
http://www.hudsonrivervalley.com/
for more information on the Hudson River Valley National Heritage Area
###
Contact:
Mark Castiglione (518) 473-3835