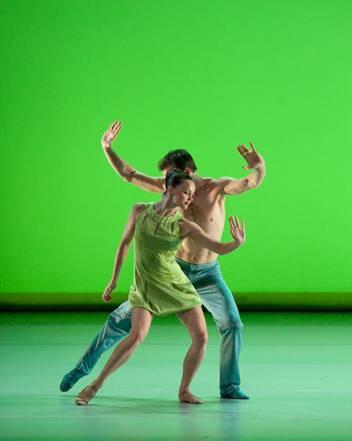 Saratoga Springs, N.Y.
- Aspen Santa Fe Ballet, a company hailed by the
New York Times
as "a breath of fresh air," will make its debut engagement at Saratoga Performing Arts Center (SPAC) with a program of innovative works by leading contemporary choreographers including Trey McIntyre, Jorma Elo and Jiri Kylián. The company's Saratoga program is part of an expansive 2013 dance season for SPAC that also includes engagements by New York City Ballet (July 9 - 13), the National Ballet of Canada (July 16 - 18) and MOMIX (8/1).  Tickets to all programs are on sale online now at
spac.org
. Marcia White, SPAC's President and Executive Director, notes: "Aspen Santa Fe is one of the great success stories in dance today.  Its contemporary repertoire is some of the freshest and most inventive in the dance world and its artistry, a signature style of athleticism and grace that leaves audiences spellbound. We are thrilled at this opportunity to introduce Aspen Santa Fe Ballet to Saratoga."  Aspen Santa Fe Ballet Artistic Director Tom Mossbrucker said of the company's Saratoga debut: "Saratoga Springs has long been hailed as a critical corner for ballet companies and enthusiasts. It is tremendously exciting and an honor to bring our work to SPAC's historic Amphitheatre stage and to be part of the arts center's dynamic 2013 dance season. We look forward to showcasing our virtuosic dancers and visionary choreography for SPAC audiences."  Considered a leader in American contemporary ballet, Aspen Santa Fe Ballet (ASFB) was founded in 1996 when Bebe Schweppe invited directors and former Joffrey Ballet dancers Tom Mossbrucker and Jean-Philippe Malaty to create a ballet company the City of Aspen, Colorado could call its own. In 2000, a second location was established in Santa Fe, New Mexico. Since then, the troupe of 11 classically trained dancers has grown to become a multi-faceted entity, not only as an internationally recognized dance company but as one of the nation's largest dance presenters.  A cornerstone of its mission is a commitment to commissioning and presenting new choreography by established and emerging choreographers; to date the company has 24 commissioned works in its repertoire. The company will present six unique works during its SPAC engagement including:
Square None
by gifted young choreographer Norbert De La Cruz III. The work, an ASFB commission, was praised by the St. Louis
Post Dispatch
for its "imaginative use of the dancers' athleticism and grace..." The ballet features baroque-inspired costumes by Austin Scarlett of Project Runway fame.
Over Glow
by Boston Ballet resident choreographer Jorma
Elo. The work for six dancers fuses modern movements with classical music by Mendelssohn and Beethoven.  The richly choreographed work features stunning duets performed in front of a luminescent background.
Return to a Strange Land,
a 1975 work by
Jiri Kylián created in tribute to his late mentor, John Cranko, the great choreographer and director of The Stuttgart Ballet. This rarely seen classic is a poetic work danced en pointe for six dancers to the haunting music of Leoš Janácek.
Stamping Ground
, the second work on the program by Jiri Kylián, and a piece inspired by Australian aboriginal dance and culture. The percussive music of Carlos Chávez propels the dance.
Like a Samba,
Trey McIntyre's critically acclaimed 1997 work and one of his most frequently performed. A signature piece for ASFB, the work is danced en pointe to songs by Brazilian jazz singer Astrud Gilberto.
Last,
an ASFB commission
by Alejandro Cerrudo which premiered in July 2012. Set to Henryk Górecki's shape-shifting "Kleines Requieum fur eine Polka," the abstract piece for six men and three women has been praised as "...a quiet miracle," by Debra Levine of the
Los Angeles Times
. White concluded that, "Aspen Santa Fe Ballet presents dance as a living, breathing art form. Fans who've seen this dynamic troupe will surely want to see them again in SPAC's magnificent setting; those who have not yet discovered the company will want to join us for this special engagement and then prepare to be amazed." Tickets start at $24 for lawn admission; amphitheatre seating ranges from $24 - $80. Kids 12 and under are free on the lawn. Tickets are available online at
spac.org
and beginning May 15, by phone at 518-584-9330 and at SPAC's Route 50 Box Office.
###
Aspen Santa Fe Ballet
Saratoga Program
Wednesday, July 24

8 p.m.

 

 

Over Glow

Return to a Strange Land

Square None

Thursday, July 25

2 p.m.

 

 

Square None

Stamping Ground

Over Glow

Thursday, July 258 p.m.

Last

Stamping Ground

Like a Samba