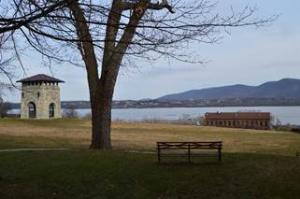 Newburgh, NY (March 18, 2020) – Want to get some fresh air?  Washington's Headquarters State Historic Site's grounds will be open Monday through Saturday, 9:00 AM until 3:00 PM. 
Due to health and safety concerns, our Museum, Hasbrouck House and Tower of Victory tours are temporarily suspended.  The grounds, with its almost 7 acres of green space and magnificent vistas of the Hudson River and Highlands, is open for all to enjoy.  
Keep watching for updates.  For more information about Washington's Headquarters, please call 845-562-1195 or visit us at www.nysparks.com or on Facebook at www.facebook.com/washingtonsheadquarters.
Washington's Headquarters State Historic Site is a registered national historic landmark. It is located at the corner of Liberty and Washington Streets within the city of Newburgh's East End Historic District. The site is one of 35 historic sites within the New York State Office of Parks, Recreation and Historic Preservation and is one of 28 facilities administered by the Palisades Interstate Park Commission in New York and New Jersey. For more information about New York State Parks and historic sites, please visit www.nysparks.com.  
###