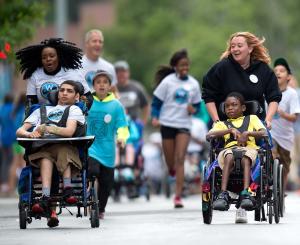 Poughkeepsie, N.Y. – Registration is now open online for the 2018 ThinkDIFFERENTLY Dash and Queen City Mile, a partnership between Dutchess Tourism Inc., First Friday Poughkeepsie, and Dutchess County Government. The ThinkDIFFERENTLY Dash and Queen City Mile are run/walks for individuals of all abilities, and all are welcome to participate in the city of Poughkeepsie.
The Dash and Mile will join the citywide First Friday celebration on September 7, beginning at 5:30 p.m. Pre-registration is $5 per person through September 4. Participants are guaranteed T-shirts and finisher medals if they register before August 15th; day-of registration ($10) will be available beginning at 4:30 p.m. on September 7.
The race route will begin and end outside 22 Market Street; the course will also include Main, Academy,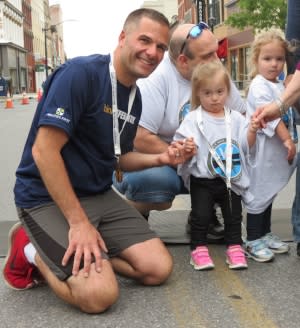 and Cannon streets. Road closures will begin on event day at 2:30 p.m.  ThinkDIFFERENTLY Dash participants will loop around once, and the Queen City Mile will consist of two loops.
"We are pleased to host the ThinkDIFFERENTLY Dash in the city again this year, and we are honored to work with Dutchess County Government and all of the ThinkDIFFERENTLY partners who work tirelessly to make our community more inclusive and accessible," said Mayor Rob Rolison.
This year marks the third year the ThinkDIFFERENTLY Dash has been held, having attracted hundreds of participants in each of its first two years.
"Dutchess County Government's successful ThinkDIFFERENTLY initiative encourages a welcoming and supportive environment for individuals of every ability," County Executive Marcus J. Molinaro said. "Our ThinkDIFFERENTLY Dash fosters empowerment and connects our community, and its participants inspire us to overcome challenges. We look forward to hosting our third successful Dash and showing how the City of Poughkeepsie and Dutchess County ThinkDIFFERENTLY."
County Executive Molinaro conceived the ThinkDIFFERENTLY initiative in 2015 as a way of fostering a more inclusive community for individuals all abilities. Dutchess County has since taken numerous steps to ThinkDIFFERENTLY, including holding events such as its annual picnic for children with special needs and their families, free sensor-friendly movie days and a baseball camp at Dutchess Stadium for children and young adults of all abilities. Since 2016, 100 communities throughout New York State have adopted ThinkDIFFERENTLY resolutions, pledging to offer a supportive environment to residents of all abilities. More information about the initiative is available at www.thinkdifferently.net.
First Friday Poughkeepsie is held every month from April to December, dependent on weather, and aims to increase awareness about the City of Poughkeepsie and showcase it as a thriving, safe, and attractive place to live, run and do business. For further information and to register go to, http://firstfridaypk.com/ or   https://dutchesstourism.com/.
# # #
About Dutchess Tourism
Dutchess Tourism, Inc. is the officially designated destination marketing organization for Dutchess County and is accredited by the Destination Marketing Accreditation Program (DMAP) of Destinations International. It is an independent 501c6 non-profit organization that works to bring tourism dollars to area businesses by marketing and promoting the assets of Dutchess County to the nation and the world.
Contact: Melaine Rottkamp, 845-463-5432