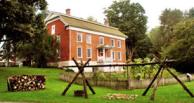 Little Falls, N.Y.
- The unknown history of a well-known historic site will be on display at the Herkimer Home this summer. Hallowed Ground, an intimate guided lantern tour of the Herkimer Home State Historic Site will open on Saturday, June 1
st
at 7:30 p.m. at the site's visitor center. This tour is unique, covering four episodes from the historic properties past that many visitors have not been exposed too. These stories and more will be presented to the public through dramatic scenes acted out by Herkimer Home volunteers. The tour will be led by lantern and a Herkimer Home tour Director. Hallowed Ground will be presented to the public on June 1
st
, June 15
th
, July 6
th
and July 20
th
at 7:30 and 7:45 p.m. Additional tours will be available on August 3
rd
, August 17
th
, and August 31
st
at 7:00 pm and 7:15 pm. Tickets for this unique and exclusive event are $10.00 for adults and $7.00 for seniors /students ages 12-16. Tickets are sold by Reservations Only and can purchase by calling (315) 823-0398. Each tour is limited to ten guests. Take some time out of your summer to re-discover the Herkimer Home in a unique way. You will leave with an understanding of the past that may just surprise you. More information about Hallowed Ground and all of the activities planned for the centennial celebration season at the Herkimer Home can be found at
http://www.herkimerhomeacademy.org/
or at the Herkimer Home Facebook page.
Herkimer Home State Historic Site, administered by the Central Region of the New York State Offices of Parks, Recreation and Historic Preservation, is located 3 miles southeast of Little Falls at the intersection of New York Thruway Exit 29A.
###
CONTACT:
Karen Sheckells, Site Director 315-823-0398