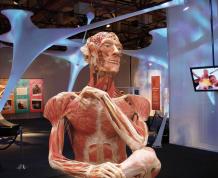 New York State Premiere of the international phenomenon
BUFFALO, NY (June 18, 2009)
- Gunther von Hagens' BODY WORLDS & The Story of the Heart, the international museum blockbuster seen by over 27 million people worldwide, will open for the first time in New York at the Buffalo Museum of Science beginning July 9th for a limited engagement. Inspired by the latest advances in the fields of anatomy and cardiology, this innovative public exhibition offers insights on the human body and disease with a special focus on the heart - an organ that is usually ignored until it suffers from distress and disease. The exhibit features more than 200 authentic human specimens including whole bodies that have been transformed through Plastination-the groundbreaking science of preserving anatomical specimens invented by Dr. Gunther von Hagens in 1977. During Plastination, fluids in the body are replaced with plastics such as silicone rubber, polymers and resins to permanently preserve specimens. The life-like poses of plastinates and presentation of organ configurations allow visitors to gain awareness into the structure and function of their own bodies. Contrary to any other exhibit, Gunther von Hagens' BODY WORLDS is the only anatomical exhibition featuring bodies willed by donors during their lifetime, for the express purpose of serving BODY WORLDS' mission to educate the public about health and anatomy. BODY WORLDS maintains a body donation program with more than 10,000 registered donors.
Location:
Buffalo Museum of Science
Address:
1020 Humboldt Parkway · Buffalo, NY 14211
Phone:
(716) 896-5200
Website:
http://www.sciencebuff.org/bw http:// www.bodyworlds.com Hours: Monday - Saturday 9 a.m. - 9 p.m. Sunday 11 a.m. - 7 p.m.
Tickets:
Non-Member BODY WORLDS admission prices are $22.00 for adults (19-61); $19.50 for seniors (62+); $16.00 for children 3 to 18 and military & students with proper ID. Special rates for schools and other groups of 15 or more apply.
Museum Member BODY WORLDS admission prices are $17.00 for adults (ages 19-61); $13.50 for seniors (62+); $12.00 for children 3 to 18 and military & students with proper ID.
Audio guides in English and Spanish are also available at $5.00 for adults and $3.00 for children. Audio guides for groups are $5.00, and audio guides for children or school groups are $3.00
About the Buffalo Museum of Science
The Buffalo Museum of Science is the non-profit educational institution dedicated to the study and interpretation of the natural and physical sciences. Its extensive collections of over 600,000 specimens and artifacts represent all facets of the natural world with an emphasis on Western New York as well as man-made objects spanning the globe. Based at 1020 Humboldt Parkway and anchoring Buffalo's East Side in Olmsted-designed Martin Luther King, Jr. Park since 1929, the Museum presents a wide variety of programs and services for children, teachers, families, adults, and community organizations throughout each year. The Museum also operates Tifft Nature Preserve in South Buffalo, a 264-acre urban wetland preserve on reclaimed former industrial land and seasonally sponsors archaeological exploration at the Hiscock Site in nearby Genesee County, NY, one of North America's richest Ice Age sites.
# # #
CONTACT:
Carolyn Batt, Media & Communications Manager BODY WORLDS 716.896.5200 x. 310,
c.batt@bw.plastination.com