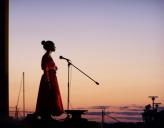 Mysteries, Myths and Ghost Stories.
Aug 23, 2013, 7pm
Oswego, N.Y. -
The H. Lee White Museum & Maritime Center presents "Tales of the Haunted Harbor" on Friday, Aug 23, 2013, beginning at 7 pm. The public is invited to join us at the Maritime Center's historic
Derrick Boat 8
for a night of mysteries, myths and ghost stories. The Tales will feature Jonel Langenfeld, Professor of Theatre and Theatre in Education, Storytelling for Social Justice and Director of the Expressive Arts Therapy Minor at SUNY Oswego and experienced seasoned professional.   "We are very excited at the new additions to this well loved program. Jonel will tell stories familiar to our audience and bring in new ones. The audience will be able to participate in interactive elements at the beginning of the show such as ...the already popular "body" garden," noted Mercedes Niess, Executive Director. Audience members are encouraged to bring their camera to take pictures of the "Monster of Lake Ontario" puppet, ghost performers or the amazing Oswego sunset. Children are encouraged to dress as their favorite ghost character. "This is my fourth year and I look forward to sharing great stories and even some of my own
personal
experiences. In addition to old favorites several local residents have shared new or expanded stories with me these last several years." remarked Langenfeld. "Not surprising, I feel drawn to historic Oswego and the water. There is always a story that needs to be told." stated Langenfeld. "Dan Williams returns to Tales lending his acting and musical talents to the performance. Once again the audience will be both entertained and surprised.
" "Jonel, has made a point to involve local talent as well as various college students and faculty as performers and technicians. She brings a rich history of performance and storytelling experience to an annual tradition," noted Richard Bush, president of the H. Lee White Museum & Maritime Center. This program is sponsored in part by Wayne Drug, a longtime supporter of the Tales of the Haunted Harbor; as well as NBT Bank, Oswego Elks Lodge 271 and Harbor Eye Associates. Attendees are encouraged to bring a lawn chair and blanket and enjoy an evening of mystery and ghost tales. Admission is $5 for adults, and accompanying children 12 and under is free. SUNY and Oswego High School students with ID are $3. A satellite of the
Treasure Chest
gift shop will be open that evening. Parking is available at Wrights Landing and on West First and Lake Streets. No pets please! In case of inclement weather contact the Museum to confirm a date change.  For further information contact
(315) 342-0480
or
mailto:info@hleewhitemarinemuseum.com
whitemarinemuseum.com
or visit
hleewhitemarinemuseum.com
or
facebook.com/hlwmm
. Caption for attached photo: Jonel Langenfeld, SUNY Oswego Professor of Theatre and theatre professional will perform at the upcoming Tales of the Haunted Harbor presented by the H. Lee Marine Museum & Maritime Center. Community performers, (Elsa Batista shown in last year's show) will thrill audiences with their talent. The storytelling event takes place, Friday, August 23, at 7 pm on the West Pier in Oswego. For more information contact the museum at 342.0480. Photo by Mary Ellen Barbeau of Oswego County Promotion and Tourism.
###