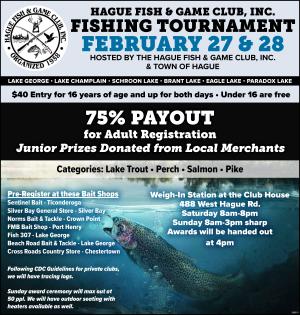 Hague, NY – February 1, 2021 – The Annual Hague Fish & Game Club Winter Fishing Tournament will be held on February 27th and 28th in coordination with the Town of Hague. The event will take place whether or not there is ice. Participants can fish on Lake George, Lake Champlain, Schroon Lake, Brant Lake, Eagle Lake, or Paradox Lake. Categories will include Lake Trout, Perch, Salmon and Pike.
The weigh-station will be located at the Hague Fish & Game Club at 488 West Hague Road in Hague, NY. Weigh-in will take place Saturday, February 27th from 8:00 AM to 8:00 PM and Sunday, February 28th from 8:00 AM to 3:00 PM. Awards will be handed out at 4:00 PM following the closing of the weigh-in station.
There is a $40.00 entry fee for participants 16 years of age, and up, for both days. Participants under 16 are free. A 75% payout will take place for adult registrations. Junior/youth prizes will be given which are being donated by local merchants.
Participants can pre-register at the following bait shops: Sentinel Outdoor Sports (Ticonderoga), Silver Bay General Store, Norm's Bait & Tackle (Crown Point, NY) FMB Bait Shop (Port Henry, NY), Fish 307 (Lake George), Beach Road Bait & Tackle (Lake George), and Cross Roads Country Store (Chestertown).
"We are excited to be able to host this annual tournament event even during a global pandemic. Please remember to follow all guidelines for the tournament as well as all COVID-19 regulations. Together we will ensure this event and future events are successful. I would like to thank the Town of Hague, our sponsors, local bait and tackle shops and the Ticonderoga Area Chamber of Commerce for their support in making this tournament possible." shared Bobbie Jean Fish – Hague Events Committee Member.
Note all COVID-19 guidelines must, and will, be followed including: masks, social distancing, and no gathering together in large groups. Tracing logs will be required. The award ceremony will max out at the current regulation of 50 people. Outdoor seating with heaters will be available.
Stay up to date on news, event information and more by liking and following the Hague Fish & Game Club on facebook. For more information you can also visit www.townofhague.com or www.ticonderogany.com.
Hague Fish & Game Club: The Hague Fish and Game Club was established in 1958 to promote the education and instruction of sportsmanship for the whole family. The club offers a safe environment for shooting sports of all kinds including pistols, rifles, shotguns, muzzle loaders, black powder, and archery. Many of their popular events like the annual Ice Fishing Derby, Turkey Shoot, Chicken BBQ, Fall Fest and others are open to the public.
Town of Hague: The Town of Hague is located in the Eastern Adirondacks of New York State in Warren County. Hague is approximately 10 minutes southwest of Ticonderoga, NY. It is nestled on the shores of Lake George's Northern basin and offers residents and visitors alike a beauty unique in all of the world. Hague provides visitor and vacation activities for all seasons. We in the Town are proud of our little hamlet and hope that you can come visit us and share in our "little piece of heaven." The Ticonderoga Area Chamber of Commerce serves as a Hague Visitor, Marketing, and Public Relations Partner.
###
CONTACT:
Matthew Courtright, Ticonderoga Area Chamber of Commerce
mcourtright@ticonderogany.com or 518-585-6619
Bobbie Jean Fish, Hague Fish & Game Club Coordinator