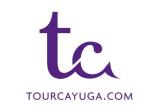 Bewitching Entertainment!
Cayuga County, N.Y. -
Autumn landscapes of festive orange invite Cayuga County visitors to step out in costume this weekend to celebrate Halloween. Wells College Department of Theatre and Dance presents Washington Irving's "The Legend of Sleepy Hollow," and "Words Upon the Window-Pane," by William Butler Yeats at 7:30 p.m., Oct. 29 and 30 at Phipps Auditorium, Macmillan Hall in Aurora, NY.  Doors open at 7 p.m. Tickets are: $7 adults; $5, seniors and community members; $3, students, Wells Students free. For reservations at the E.B. Morgan House, 431 Main Street, Aurora, or the Aurora Inn at 391 Main St, Aurora, call (315) 364-8888. Auburn Public Theater, 8 Exchange St. at Genesee, presents a family-oriented musical, "The Littlest Witch," 7 p.m. Fri., Oct. 29; 1 p.m. and 4 p.m. Sat., Oct. 30; and 2 p.m. Sun., Oct. 31. Individual tickets are $5 for Fri. and Sat., $5 per family of four for Sunday. Call 315-253-6669 for information.
Fright-filled fun
Halloween revelers can also find fright-filled fun from 7 p.m. to midnight, Fri. and Sat., Oct. 29 and. 30 at Screamers Hollow, 15385 Farden Rd., Sterling, NY. (Renaissance Faire site). The haunt fest includes live actors, animation, and evil characters with special effects. The "Village of the Damned," features live shows-"Scales of the Damned," "Malicious Magician Show," and creepy campfire ghost stories. A haunted hayride, slaughterhouse asylum outdoor maze, and spirits on the boggs provide enough screams to last all year. Get tickets, sold nightly until 11 p.m., from $7 for a single event to $35 for a Bloody Bundle.  Group rates are also available.  Call 315-947-5782 or view 
http://www.screamershollow.com/
. In Fair Haven (Sterling) stay at Pleasant Beach Hotel, 14477 Fancher Ave., 
http://www.pleasantbeach.com/
, 315-947-5399, or  Anchor Resort & Marina, 14424 West Bay Rd., 
anchorresort@twcny.rr.com
, 315-947-5331.
Mall Magic
Go trick-or treating at Bass Pro Shops at Fingerlakes Mall, Aurelius. Children get a "Peanuts" bag to stash treats, from 4 p.m. to 8 p.m. Fri., Oct. 29. A costume parade continues from 6 p.m. to 7 p.m. Free apple dessert samples are available at the marshmallow roast Sat. and Sun., Oct. 30 and. 31. The mall's Monster Maze, open daily from 7 p.m. to 11 p.m. through Oct. 30, has special lights on for children on Halloween, Sun., Oct 31, from 5 p.m. to 6 p.m., It's open until 10 p.m. Halloween night. The $7 entrance fee supports Cayuga Seneca Community Action Agency and Auburn High School Bowling. Call 315-781-7000. A  Halloween Party in the mall's Center Court from 2 p.m. to 4 p.m., Sat., Oct. 30, includes a costume contest for children 10 and under and prizes (scary, funny, cute, silly, unusual). Cider, donuts, trick-or-treat bags and live music are free. Children can trick or treat at participating mall shops from 2 p.m. to 4 p.m. Family activities from 6 p.m. to 8 p.m. take place in the Food Court.
Speedway Spooks
Cayuga County Fair Speedway Halloween Festivities are slated for 2 p.m. Sat., Oct. 30. Gates open at noon. The schedule includes a Halloween costume contest with children trick-or-treating with drivers on the track before the race. The Pick-N-Pull Enduro is open to 4-or 6-cylinder hardtop passenger cars with stock engines. Cash prizes include $1,000 for first place. Adult tickets are $10, seniors $8, children (10-14yrs) $5, those 14 and under in Halloween costumes and those under 10 get in free. Visit 
http://www.cayugacountyfairspeedway.com/
 or call 315-834-6606 for information. Weedsport accommodations within walking distance include the Best Western Inn, 2709 Erie Drive, 
http://www.bestwestern.com/
, (800) WESTERN or 315-834-6623, or Days Inn, 9050 Route 34, 
http://www.daysinn.com/
  315-834-6196. For more information on Cayuga County happenings contact: 
http://www.tourcayuga.com/
, (800) 499-9615.
###
Editorial Contact:
Meg Vanek Executive Director  Cayuga County Office of Tourism  131 Genesee Street Auburn, NY  13021  p.  315.255.1658/800.499.9615  f.  315.255.3742  e. 
meg@tourcayuga.com
http://www.tourcayuga.com/