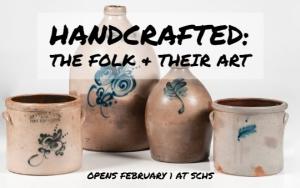 Schenectady, N.Y. – Bright, bold colors. Quaint and genuine. Beautiful in an unrefined way. These are just a few characteristics of the Schenectady County Historical Society's (SCHS) folk-art collection.
American folk art was born in the pre-industrial era and consists of diverse objects created by regular people as a means of expression. This creative impulse, and our universal search for beauty, are at the core of SCHS' latest exhibition, Handcrafted: The Folk and Their Art.

Made and used by ordinary people, the folk art on exhibition reflects human needs, values, concerns, and desires. The art expresses the contrasts between the common and the elite, the urban and the rural, which characterize Schenectady's past. At the root of Handcrafted: The Folk and Their Art we ask, who were these artisans, and what does their art say about our shared past?

Journey with us through our region's folk art in an exhibition co-curated by Susanna Fout and SCCC folk art professor Marilyn Sassi.  Handcrafted: The Folk and Their Art features over fifty carefully selected pieces, most of which have never been displayed.
The exhibition opening will feature a presentation on stoneware by John Scherer. Often, utilitarian stoneware containers were decorated with cobalt blue designs to make them more attractive. These decorations are now considered examples of American folk art, and New York State has among the finest collections.

Refreshments will be served. Admission is $5, or free for SCHS members.
Coming up at SCHS:
Complex Evidence: Untangling Multiple, Same-Name Individuals with Judith A. Herbert, Certified Genealogist®
Saturday, January 11 at 2pm @ 32 Washington Ave | $5, free for members

You've found a John Smith in your ancestry and the question becomes, "Which of the possible John Smiths is my John Smith?" The lecture will provide tools and techniques for separating persons of the same name in an area, to ensure that researchers are locking onto the correct individual. Strategies for planning and conducting a surname study will be covered; as well as tips for making sure all possible sources have been consulted, which could help to identify the right John Smith. Presenter Judith Herbert is a Certified Genealogist®.
Workshop: Painted Plates
Saturday, January 18 at 11am @ 32 Washington Ave
SCHS curator Suzy Fout will discuss the history of delft ceramics, using examples from the SCHS collection. Participants will decorate their own plates to take home. Registration is $30, at www.schenectadyhistorical.org/programs.
"Exploring the Worlds of Everything Worthy of Observation" with Paul G. Schneider Saturday, Feb 8 at 2pm @ Mabee Farm | $5 or free for members
Schneider will discuss the 1826 New York State Travel Journal of Alexander Stewart Scott, a young Canadian man who visited Schenectady twice on his steamboat journey across New York State. A keen observer, the twenty-one year-old meticulously recorded his travel experiences, observations about people he encountered, impressions of things he saw, and reactions to events he witnessed.
"The Woodland Period in Eastern New York : The Archaeology of a Changing Landscape"
with State Archaeologist Christina Rieth
Saturday, Feb 15 at 2pm @ Mabee Farm | $5 or free for SCHS members 
NYS Archaeologist Christina Rieth will discuss NY's Woodland Period (c. 1000 BC - 1500 AD), its archaeology, and an ongoing  excavation at the Pethick Site in Schoharie. Rieth's research focuses on how prehistoric groups interacted with their local environment and the role that such interaction had on the settlement and subsistence strategies of New York's Late Prehistoric occupants. Through her work, Rieth seeks to make information about the archaeological past accessible to all New Yorkers.
Bus Trip to the American Museum of Natural History
Wednesday, Feb 12 | $85
Join us as we hop aboard our luxury coach and head into Manhattan for a day of discovery! The AMNH is the world's largest natural history museum, packed with exciting exhibits and interactives that represent people, animals, and the earth and universe through the ages. Explore the AMNH's dinosaurs, planetarium, giant blue whale, Hall of Biodiversity, fossils, gems, anthropological collections, and striking animal dioramas. Tickets are $85 and available at www.schenectadyhistorical.org/programs.
The Schenectady County Historical Society is located at 32 Washington Ave, Schenectady, NY 12305-1601.
###