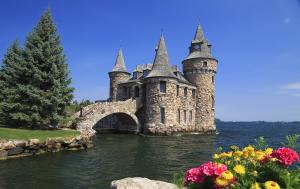 Visit Two Hotels & Get a Portable Mini-Cooler Stuffed with Goodies for the Drive
Buffalo, NY (April 6, 2021) – The Harbor Hotel Collection features the Empire State Road Trip designed to showcase three of New York State's most popular regions and all the fun stops in between. Formerly housebound couples, families and friends, will enjoy a one-of-a-kind mini-vacation that includes outdoor recreation, cultural attractions, alfresco dining, and stays at AAA Four Diamond waterfront hotels: Chautauqua Harbor Hotel on Chautauqua Lake, Watkins Glen Harbor Hotel, located on Seneca Lake within the Finger Lakes, and 1000 Islands Harbor Hotel on the shores of the Saint Lawrence River. All hotels have adopted enhanced cleaning procedures and protocols per CDC guidelines for safety.

Itinerary highlights include Seneca Lake Wine Trail (Watkins Glen), National Comedy Center (Chautauqua) and Boldt Castle (1000 Islands).
Guests who take the Empire State Road Trip and visit two or more Harbor Hotel Collection hotels on consecutive nights will receive a complimentary Road Trip Snack Cooler filled at each stop with goodies and surprises for the drive, such as bottled water, fresh fruit, energy bars, and more.
A three-hour ride separates Chautauqua Lake from Watkins Glen and from Watkins Glen to 1000 Islands – with many interesting stops, natural wonders, and historic attractions in between. Travelers may choose to start their Empire State Road Trip from any of the hotels.
For more information visit HarborHotelCollection.com. For Empire State Road Trip Reservations, please click here or call 607-535-3759.
Image: Boldt Castle in spring
Contact:
Jenny Beesmer
CM Communications
harthotels@cmcommunications.com