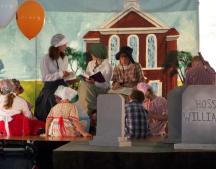 Oswego, N.Y. -
Oswego Harborfest has announced that the 2010 Children's Musical will be "The Three Musketeers". The musical production is taken directly from the French literary classic by Alexandre Dumas. Area students ages 9 through 16 will have the opportunity to audition for a part in this year's musical.  As part of Harborfest's entertainment programming and in conjunction with the 2010 Cultural Component, France, Director's Bobbie Palange and Rocky Farden will be staging the children's musical on the Family Stage at the Novelis Family Park at Fort Ontario during Harborfest 2010. "The musical follows the adventures of d'Artagnan as he and the Musketeers fight for the honor of the Queen of France," explained Farden.  The story is narrated by Dumas, himself.  Other major roles are The Cardinal, Lady De Winter, The King and Queen and a number of swordsmen and maids. The Harborfest Children's Committee is very interested in encouraging the community's young people to participate in Harborfest by auditioning for the musical.  "We've made a concerted effort to provide the best in family entertainment year in year out at Harborfest," said Farden. Farden added that the production requires between 30-35 children and features plenty of speaking parts.  There is a need for singers, dancers and actors.  Children ages 9 through 16 may audition either April 27 or 28 from 5 PM to 7 PM at the McCrobie Building located at 41 Lake Street in Oswego.  Children will be asked to sing "America" and "Happy Birthday" as part of the audition as well as do some reading.  Previous theatre experience is no required. "The Three Musketeers" which features an array of colorful costumes and scenery, is approximately 50 minutes in length and will be performed several times during Harborfest, including performance's on the Family Stage in the Novelis Family Park at Fort Ontario Friday, July 23 and Saturday, July 24. "Everyone associated with Harborfest is thankful for the work put in by both Bobbie and Rocky to produce such productions during the festival," said Harborfest Executive Director Tom Van Schaack.  "Last year's production of "Tom Sawyer" was extremely well received and we anticipate this year's musical will be just as entertaining." Harborfest 2010 is scheduled for July 22-25.
CONTACT:
Rocky Farden, (315) 342-4194 Bobbie Palange, (315) 343-9595
Photo Caption
: "The cast of the children's musical "Tom Sawyer" performs at Harborfest 2009.  This year's children's musical is "The Three Musketeers".  Audition are April 27 and 28 from 5 PM to 7 PM at the McCrobie Building in Oswego."
- 30 -