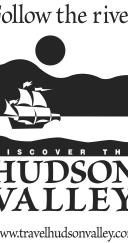 State parks in the Hudson Valley are full of adventure
Green's the scene in the Hudson Valley with thousands of acres of state parks beginning to blossom as summer approaches. New York has had a long commitment to its parks system, and visitors will find unusual amenities that offer new experiences at these preserves and historic sites around the region.
The newest addition to the state park system is
Walkway over the Hudson
, the world's longest pedestrian bridge. Extending from Poughkeepsie to Highland 212 feet above the Hudson River, hikers, bikers, and strollers enjoy magnificent views of the valley from the 1.25 mile span. When links to nearby trails are completed, visitors will be able to walk and pedal for more than 30 miles. Breathtaking views of the Hudson Valley can also be found along the trails of
Rockland Lake State Park
. After working out on the tennis courts or two golf courses, take a dip in the 10,000 square foot swimming pool. The three-mile, paved trail around the lake is perfect for walking, or rent a boat and watch all the action on shore. The sound of cascading water soothes the soul with its misty scenery. One of the most famous sites is Kaaterskill Falls at
North South Lake State Park
in Haines Falls. At an elevation of 2,250 feet, it's also the site of the former Catskill Mountain House. On a clear day, five states can be seen, and the park has the biggest and most popular campground in the Catskill Forest Preserve. Across the river, it's an easy walk to Bash Bish Falls at
Taconic State Park
. There are plenty of activities for campers as well as day visitors at the oldest State Park in the Taconic Region. A pleasant afternoon can be spent biking or strolling along the newly developed Harlem Valley Rail Trail, and visiting the newly created Iron Works museum to learn about the industry at the former site of Copake Iron Works, established in 1845.
Several waterfalls can be found at
Minnewaska State Park Preserve
 in New Paltz in the 21,000 acre preserve. Situated on the dramatic Shawangunk Mountain Ridge, there are 35 Miles of carriage roads, 25 miles of foot paths, and 4 sky lakes. Minnewaska is one of America's most popular rock climbing spots. Closer to Manhattan, the 10,000 square foot visitor center at
Sterling Forest State Park
in Tuxedo displays the history of the old iron mines and surrounding environment in three-dimensional dioramas and exhibits. The 19,000-acre park is among the largest contiguous forests in the state and home to more species of birds and plants than anywhere else in New York. The extensive trail system links to a series of hiking paths that range over many states.
Clarence Fahnestock State Park
in Carmel is home to the Taconic Outdoor Education Center, a high quality environmental programming venue. The 14,086 acre park boasts hiking trails, a beautiful beach, picnic areas, scenic campground and abundant opportunities for boating, fishing, and birding. Nearby
Franklin D. Roosevelt State Park
in Yorktown Heights is a great fishing spot for bass, perch, and pickerel. Hiking and picnicking are enhanced with playing fields, playground and swimming pool. In September each year, the park hosts the Lower Hudson Valley Native American Pow Wow produced by the Redhawk Native American Arts Council. Rising a sharp 1,100 vertical feet from an ancient ocean floor, the Helderberg Escarpment at
John Boyd Thacher State Park
in Voorheesville is one of the richest fossil-bearing formations in the world. From the top of the escarpment there's a spectacular view of the Hudson-Mohawk Valleys, Adirondacks, and the Green Mountains. For some adventure, hike along Indian Ladder Trail, a famous old Native American trade route that follows  the base of the escarpment, passing under Minelot Falls. Coming full circle and returning to the Hudson River, seven miles of waterfront line the shores of
Schodack Island State Park
at Schodack Landing. The boat launch makes easy work of putting a canoe or kayak into the river. A portion of the park shelters a Bird Conservation Area that is home to bald eagles, cerulean warblers and blue herons that nest in the cottonwood trees at this designated State Estuary. From bridge walking to eagle watching, a wide variety of experiences await visitors to the state parks in the Hudson Valley. For adventurers, families, or those who just want to relax surrounded by nature, it's a fun way to spend the day in the outdoors at little or no cost. Complete descriptions of the state parks can be found at www.nysparks.com.            Hudson Valley Tourism, Inc. is the 10-county region designated by I LOVE NEW YORK to promote tourism for the area. Counties include Albany, Columbia, Dutchess, Greene, Orange, Putnam, Rensselaer, Rockland, Ulster and Westchester. Regional information can be obtained from any of the county tourism offices, the Hudson Valley Tourism website, www.travelhudsonvalley.com, or by calling 845-615-3860. Walkway Over the Hudson, Poughkeepsie and Highland. 845-454-9469,
www.Walkway.org
   Rockland Lake State Park, Valley Cottage. 845-268-3020,
http://www.nysparks.com/
                  North South Lake State Park, Haines Falls. 518-589-5089,
http://www.dec-campgrounds.com/
Taconic State Park, Copake Falls. 518-329-3993,
www.nysparks.com/parks
            Minnewaska State Park Preserve, New Paltz. 845 255-0752, 
http://www.nysparks.com/
  Sterling Forest State Park, Tuxedo. 845-351-5907,
http://www.palisadesparksconservancy.org/
                Franklin D. Roosevelt State Park, Yorktown Heights. 914 245-4434,
http://www.nysparks.com/
Clarence Fahnestock State Park, Carmel. 845-225-7207,
http://www.nysparks.com/
          Franklin D. Roosevelt State Park, Yorktown Heights. 914-245-4434,
http://www.nysparks.com/
John Boyd Thacher State Park, Voorheesville. 518-872-1237,
http://www.nysparks.com/
             Schodack Island State Park, Schodack Landing. 518-732-0187,
http://www.nysparks.com/
###
Contact
: Victoria Hochman (914) 762-1900
vicky@thompson-bender.com