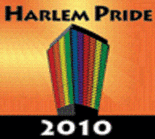 New York, N.Y.
- Harlem, New York, the historical center of African - American culture, will host to its first ever Pride celebration this summer and is pleased to announce its schedule of events for this historic celebration:
June 12, 2010
"Coming Out" Art Show  A Historical Retrospective of New York's Trailblazing LGBT Institutions Casa Frela Gallery 47 W. 119th Street (btwn Lenox & 5th Avenues) 2pm - 10pm - Honored organizations include Black AIDS Institute, The Callen-Lorde Community Health Center, Fierce, Folsom East Street Fair New York, Harlem United Community AIDS Center, The Hetrick-Martin Institute, Human Rights Campaign, Imperial Court of New York , Leslie & Lohman Gay Art Foundation, The LGBT Center in NYC, LIVE OUT LOUD, PFLAG, SAGE and SALGA.
June 25, 2010
Harlem Pride Official VIP Launch Party  Billie's Black Bar/Restaurant//Lounge 271 W. 119th Street  (btwn St. Nicholas Ave & Frederick Douglass Blvd) 7pm - 4am  June 26, 2010 Harlem Pride Day Celebration W. 119th Street (btwn Lenox & 5th Avenues) 12pm - 6pm    June 27, 2010 "Bowl with Pride" - Closing Event Harlem Lanes 2116 Adam Clayton Powell Blvd. (btwn W 125th and W 126th Street) 6pm - 10pm The purpose of Harlem Pride is to promote Lesbian, Gay, Bisexual, Transgender and Same Gen-der Loving Pride in Harlem by providing opportunities for networking and communication among organizations and community members in Harlem. To do that, Harlem Pride will become a com-munity partner in support of existing programs and we will also produce our own events that will celebrate LGBT & SGL pride.  Lawrence Rodriguez and Carmen Neely, two Harlem LGBT activ-ists/residents saw an opportunity to celebrate the LGBT & SGL community and its role and contri-butions to Harlem's rich history. They envisioned an annual celebration of gay liberation in Har-lem's Mount Morris Park Historic District because the area has become a thriving "gayborhood," and would be an excellent symbol of uptown gay pride.  With thousands of LGBT residents in Har-lem and more visitors expected for general June Pride Month events, Harlem Pride's time has come. Harlem Pride's founding board members include Lawrence Rodriguez (Founder/Executive Director, Casa Frela Gallery), Carmen Neely (Founder, Crucial Arts), Michael Hodge (Owner, Kai & I Catering), Adriane Ferguson (Owner, Billie's Black Bar/Restaurant/Lounge) and John Reddick (Founder, Harlemonestop.com) Harlem Pride thanks its supporters the West 119th Block Association, Billie's Black, Crucial Arts, Casa Frela Gallery and Gay Black Travel. For more on Harlem Pride, our events, and how you can support. please visit
http://www.harlempride.org/
.
###
Contact Information
: Information Center 212-722-8577
info@harlempride.org
http://www.harlempride.org/