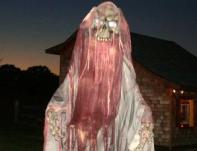 Schaghticoke, N.Y.
- Check out the October happenings, haunted and otherwise, at Liberty Ridge Farm in Schaghticoke!
October 5, 6, 7, 12, 13  19, 20,  25, 26, 27 - The Harvest Haunted Attraction -
Every weekend in October, The Farmer haunts Liberty Ridge Farm. Dare to venture into one of the five Haunted Attractions that all start with a trolley ride in the darkness to the fear-side of the farm.  The Farmer's Haunted House and his Forest of Fear await you. Tempt fate as you take the passage through Brad's Barnyard to the Field of Screams and Fort HuntD. But beware of the Shady Rest ... no one no one knows what happens to people who go in there! The $18 Haunt Admission includes 5 Haunted attractions and access to Brad's Barnyard with a warm cracklin fire to warm up by, The Pitchfork is open for a meal, snack or something hot to drink and The Gifford Barn offers desert items and beverages. Be warned: these haunted attractions may be too intense for people with weak hearts, those that faint easily, small children, and those who frighten easily. It is not recommended for children under the age of 11. Haunting begins at 7 p.m.!
October 6, 7, 8 - Family Farm Olympics Columbus Day Weekend
Come join Liberty Ridge's fall festival for old fashioned games and prizes at the Family Farm Olympics! The games kick off with a farm-style Opening Ceremony Parade, followed by family fun races, relays, and games. Play some old fashioned games, like Potato Sack Races and 3-Legged Relays! End the afternoon with our Olympic Award Ceremony, where everyone gets to take home a commemorative medal!  * just added The Battenkill Pony Club will have pony rides offered as part of their fundraiser (a $5 donation required for a ride) Admission is $10.50 under 2 free 
October 13, 14- Western Days
Calling all little wranglers! Liberty Ridge Farm steps back in time to the OLD West from 1-5 p.m. Western Weekend is a festival of activities including face painting, balloon artistry, barrel racing on inflatable horses, rope a steer challenge, and marshmallow gun target practice.  The farm will have Cowboys and Prospectors and even an Old West Sheriff deputizing each little wrangler. Freshly made apple cider donuts, fall mums, pumpkins, corn stalks, and apple cider slushies and a wide variety of the farm chef's favorite delights and foods will be available. **Special appearance: The Flood Road Boys hail from upstate New York, playing an original recipe of Acoustic FolkGrass music.  The quartet features the lyrics of J. Peter Yakel (guitar/vocals), framed by instrumentalists, "The Professor" Chris Schultz (banjo), and Pete "The Treat" Murphy (bass).  Together, the boys create an assortment of homegrown foot-stompers and eye-weepin' ballads as varied and unpredictable as the northeast seasons. Admission $10.50; under 2 free. 
October 20, 21
- Harvest Festival
This agricultural festival weekend celebration is full or carnival shows, spinning demonstrations and yummy food, fall fun and adventure all in one weekend.  If its food on your mind, The Pitchfork, the outdoor kitchen will be grilling up local treats with a variety spices and herbs, to jazz up the flavor.  Admission $10.50 under 2 free 
October 27
-
Monster Mash
The Monster Mash is a kid friendly celebration in the event tent that will have music, magic, a pageant and visits by a friendly witch, the pumpkin princess, with prizes and giveaways.  Come share the excitement of the Halloween season with family in this fun for all ages event. (General Admission required $10.50 to participate) For more information, visit
www.libertyridgefarmny.com/
###