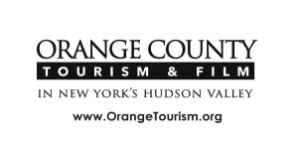 Enjoy a concert, take in a movie or head down to the fair to make memories with the whole family!
Orange County, N.Y. (July 8, 2021) – Summer is here and it's time for fairs, festivals and nights out with friends and family! Orange County is filled with summer activities that offer plenty of fun for all ages. From taking in a concert featuring local music, a carnival filled with fun rides and sweet treats, or a fair to let out your inner knight in shining armor, Orange County, N.Y. offers you the best summer outings!
"Summer is one of the best times to explore the region and make memories that last a lifetime," said Orange County Tourism Director Amanda Dana. "Visit one of the many free concert series, spend the night away at one of our fairs or festivals, or take in a movie at an old-fashioned drive-in theater. We bet you can't stay just ONE day!"
Below are some summer activities in Orange County, N.Y. Before visiting any of the locations, please contact the venue directly to confirm that they are open and practice safe social-distancing.
2021 New York International Air Show, 500 Dunn Road, Montgomery: Watch the skies as you see incredible aerial feats at Orange County Airport from August 28-29. Headlined by the U.S Air Force Thunderbirds, watch demonstrations from military planes and planes from the past in a fun filled day for the whole family! airshowny.com/
Warwick Drive-in, 5 Warwick Turnpike, Warwick: Enjoy the latest Hollywood blockbuster under the stars while eating a delicious snack or refreshing beverage from the snack bar. The drive-in is open rain or shine, seven days a week, with movies starting at 9 p.m.  All customers are required to wear masks when outside your vehicle for any reason, and must maintain 6 feet of social-distancing space. warwickdrivein.com
Orange County Fair, 239 Wisner Avenue, Middletown: After a year off, the Orange County Fair is back and better than ever to provide families entertainment in Orange County and beyond! Whether you go for the music, the rides, the incredible entertainment or the delicious food, make family memories that will last a lifetime at the fair. orangecountyfair.com
Orange Motorsports and Entertainment Summer Music Series 239 Wisner Ave, Middletown: Bring your entire family for a great night of music at the OME Summer Music Series at the Orange County Speedway! Musical acts include Toby Keith, Soul Asylum, George Thorogood, Cheap Trick and many more! Shows are held at either the Speedway's Stadium or "The Barn". Concerts held at "The Barn" are lawn seating only and patrons are encouraged to bring their own chairs. omeevents.com/
Fair Oaks Drive-in, 365 Bloomingburg Road, Middletown: Spend your night at an old-fashioned drive-in, viewing the latest movies on two separate screens. Not feeling like a movie? Laugh the night away at one of our live comedy shows right in the heart of Middletown. fairoaksdriveintheatre.com
New York Renaissance Fair, 600 Route 17A, Tuxedo: Travel back in time to Elizabethan England, spending the day in the spirit of imagination and play! Cheer on your favorite knight at the jousting tournament, feast on savory treats and sweets, see breathtaking performances and shop at the marketplace featuring over 100 artisans. The Renaissance Fair is open Saturdays, Sundays and Labor Day from August 21 thru October 3. Social distancing is encouraged and some events may be modified to accommodate social distancing. renfair.com/ny/
As the world reopens, Orange County, N.Y., invites residents and visitors to escape, enjoy and explore its wide-open spaces. For a full list of attractions, lodging and dining options, please visit orangetourism.org/summer/. Additionally, a fun, free, 56-page travel guide is available for digital download at OrangeTourism.org/travel-guide.
About Orange County Tourism
Orange County Tourism, based in Goshen, N.Y., is the county's tourism headquarters and a participant in the I LOVE NY program. A comprehensive listing of area attractions, lodging and events can be found at OrangeTourism.org. Like Orange County Tourism on Facebook for the latest news on local happenings.
###
For more information, contact:
J.P. McGuirk
Focus Media, Inc.
845-576-2212